So, you've bought your dream touring rig and are keen to get out and start exploring. It's an exciting time and while you can get straight on the road, many people choose to make a few modifications before they go to make their travels a little more comfortable. With so many different off-grid power solutions available it can be a bit daunting and difficult to know which direction you should go in, portable power or a more traditional dual battery system. We've broken down the benefits and considerations of each, to hopefully help make the decision a little clearer.
Where to start?
Portable power is perfect for those looking for all the perks of having power off-grid without having to do the hard work of installing a dual battery system. In modern 4WDs, engine bay space is at a premium and, especially in smaller vehicles, installing a full dual battery system isn't always practical. GoBlock combines all the essential elements of a dual battery system in a compact, portable solution. It allows you to take your power in and out of the car without having it take up precious engine bay or boot space all the time.
If you're looking to get away for more than a few days at a time, run all the comforts and luxuries from home, or have a system capable of producing as much power as you'd like, a traditional dual battery system is the way to go. Wired into your vehicle, caravan or camper trailer, traditional dual battery systems are fully customisable solutions. This means that you can choose to run any size or type of battery and charger, and wire in a whole range of accessories including inverters, gauges, and battery management systems. Essentially, you can setup a system to power you for as long or short as you want.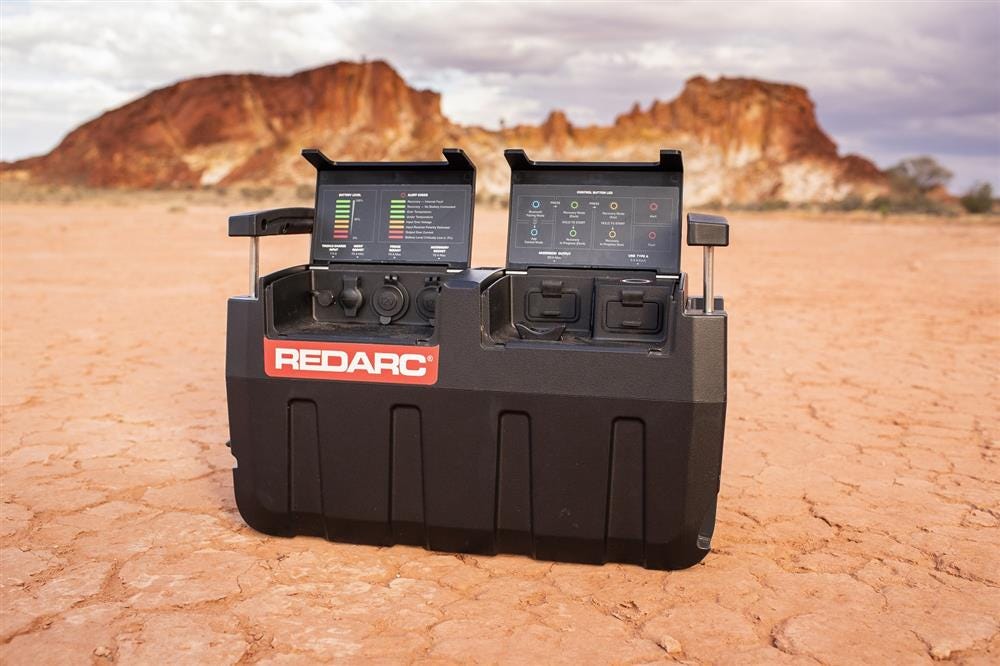 How long do you want to travel for?
If weekend getaways are more your style, portable power is the way to go. With a 50 or 100Ah lithium (LiFePO4) battery, GoBlock has enough power to keep you going without having to worry about recharging. GoBlock can be recharged via mains power; so, you can charge it at home, put it in the car and off you go, ready for your destination. If you decide to stay out longer or want to make sure you have enough power to keep going, you can also connect a solar panel to top up the battery at camp.
For longer trips, a traditional dual battery system is often preferred. If you're planning to be off-grid for long periods of time or be constantly on the move, a dual battery system allows you to tailor the system to your specific needs. Designing a traditional dual battery system to suit your needs is the perfect solution for people looking to spend as much time off-grid as possible as you can choose what accessories you want to run and add accessories including inverters and solar panels to it as needed.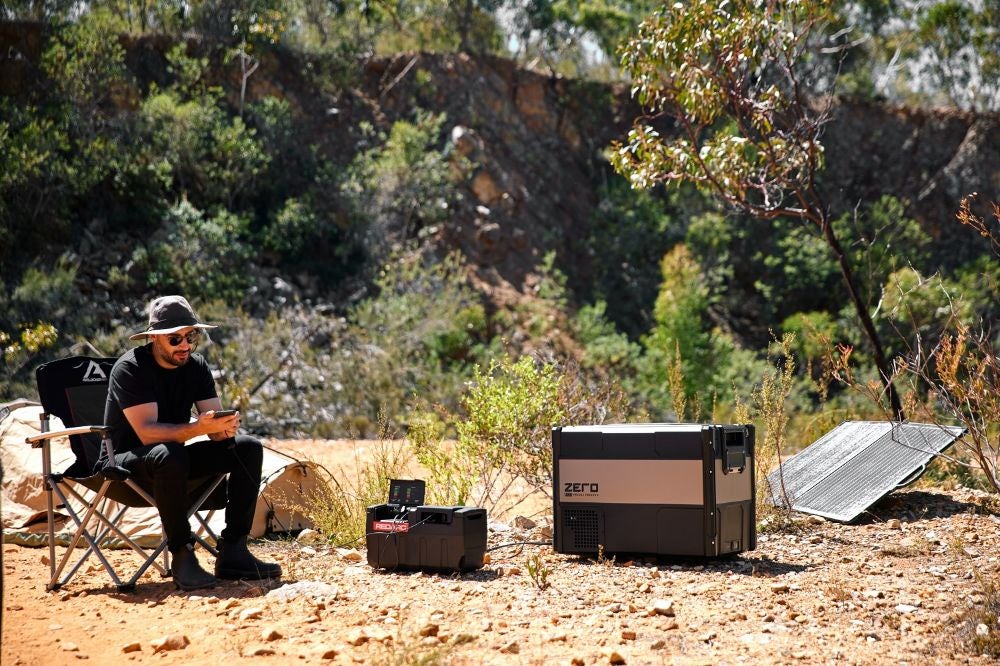 What accessories do you want to run?
Portable power systems are prefect for charging all your essentials. GoBlock has USB and 12v sockets as well as fridge and Anderson outputs making it ideal for keeping your phones, games, cameras, and drones charged as well as powering fridges, lights, and compressors. It packs enough power to make any weekend camping trip more comfortable and, and the end of the weekend, you can take it out of your car, put it back in the garage and charge it up via mains power ready for the next getaway.
The beauty of a traditional dual battery system lies in its customisability. If you're wiring a dual battery system into your vehicle or camping setup, you can have as much or as little power as you'd like. It all comes down to the size of your charger and batteries. You're also able to connect more than one auxiliary battery, which can allow you to tailor your setup to the specific devices you want to power. Another of the main benefits of a dual battery system is the ability to run a Pure Sine Wave Inverter. Inverters convert the DC power from your batteries into AC mains power, allowing you to run all your household accessories including blenders, kettles, hair dryers and anything with a wall plug.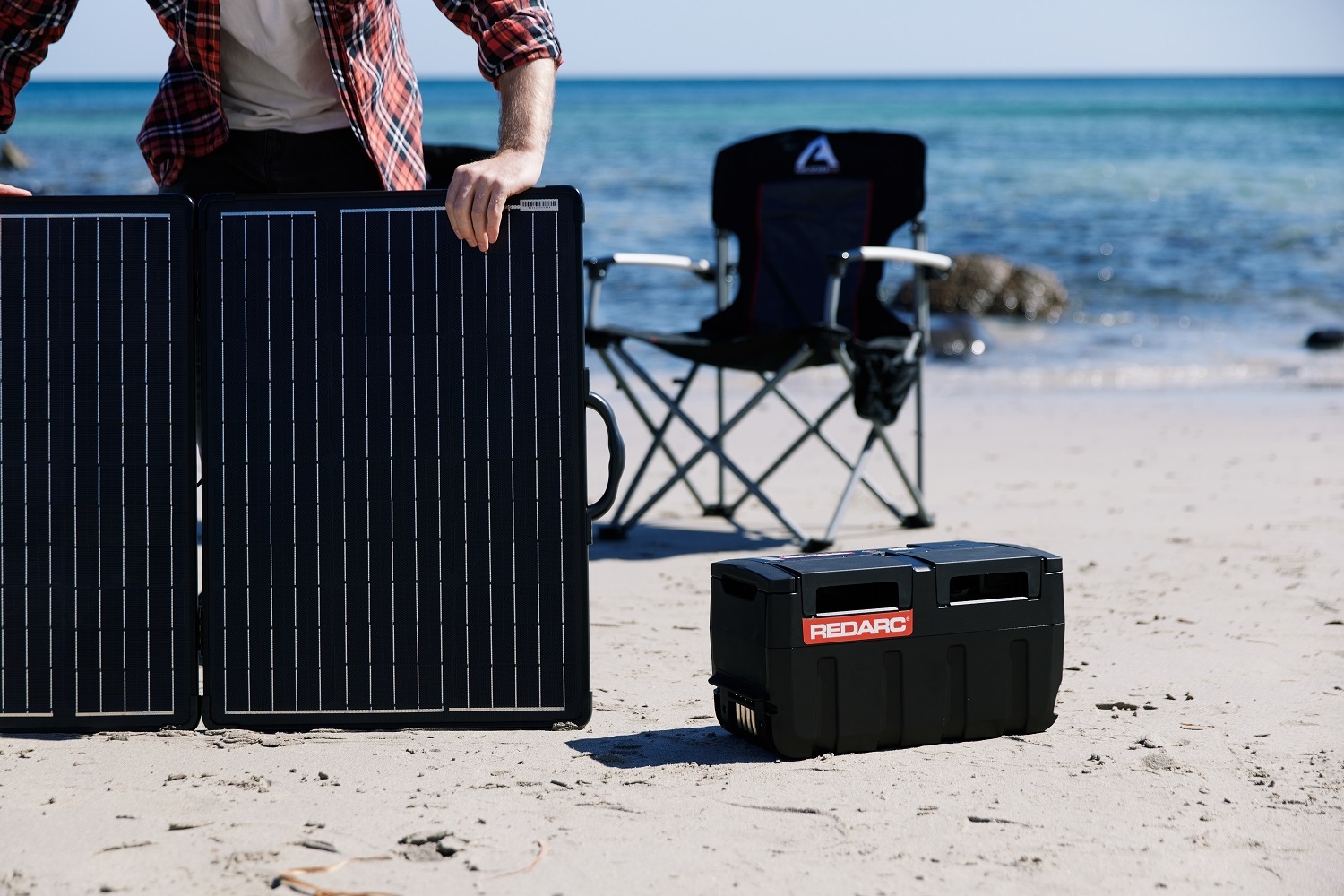 Does the size of my car matter?
The benefit of portable power systems are their size. Taking up no more space than a slab of beer, GoBlock is perfect if you're tight on space. If you're driving a smaller vehicle or don't want to commit to a permanently wired dual battery system, GoBlock can easily be taken in and out of the car meaning you don't need to drive around with it when you're not using it.
Traditional dual battery systems tend to take up more space as they need to be permanently installed. With one or more auxiliary batteries, as well as chargers and whatever other accessories you choose to wire in, this can take up a lot of space in the engine bay, canopy of boot of a vehicle. You can't choose to take out your inverter if you need that bit of extra space without unbolting and unwiring it.
Whether you're after a portable or permanent off-grid power system, we hope we've made the decision a little clearer for you. For more information on the what goes into building the GoBlock check out our behind the build story.