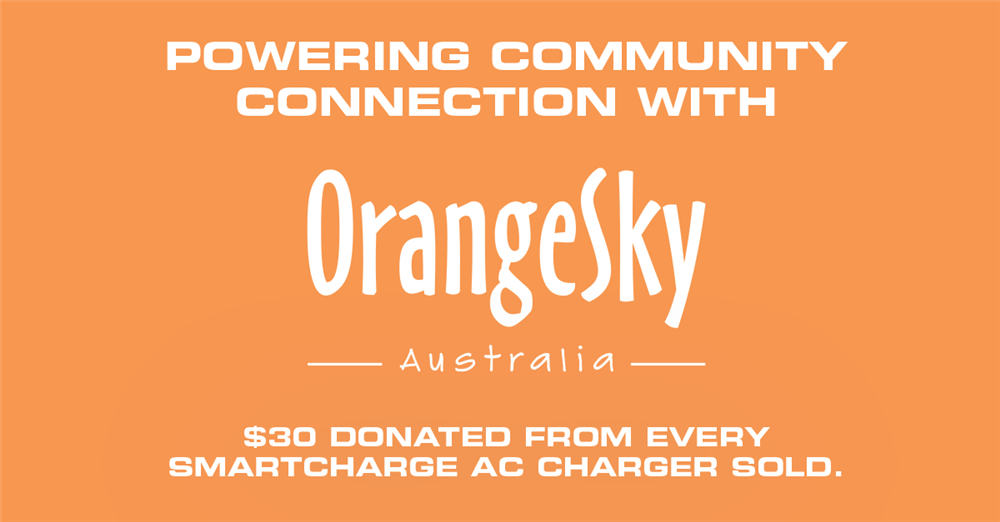 Australian not-for-profit Orange Sky, supported by Australian electronics manufacturer, REDARC and design and publishing provider, Canva, launch solar powered laundry van to support people experiencing homelessness in Australian remote communities.
Equipped with a REDARC solar and lithium battery management system, the RV3.0 laundry van has the ability to produce more power than it uses, decreasing electrical consumption by up to 80% per shift.
A total of eight RV3.0 vehicles and three retrofit RV3.0 vehicles will be built at the Orange Sky headquarters and introduced to remote communities including Maningrida, Wadeye, Fitzroy Crossing, Bidyadanga and Palm Island to meet the demand for laundry services.
After launching the Waru Dryer - the world's first fuel-powered and solar battery-operated clothes dryer just last month, Aussie not-for-profit Orange Sky have today launched another world first - a solar-powered laundry van equipped with three washers and three dryers.
Orange Sky provides access to free laundry services, warm showers and genuine, non-judgmental conversation and connection to community members doing it tough, across Australia and New Zealand via bright orange mobile vans.
With their dedicated 'Imagination and Innovation' department, the organisation strives to think outside the box to create smarter and more efficient ways to drive greater impact, with their most recent innovation, the RV3.0 vehicle, doing just that.
The Orange Sky innovation team undertook the preliminary ideation, developing the schematic of the vehicle using Canva, with the global visual communications platform integral to rapidly iterating concepts during early stages of design.
The RV3.0 vehicle is powered by four 180-watt REDARC solar panels, 600-amp hours in lithium batteries and a battery management and charging system to effectively capture, store and use the renewable energy harnessed, giving the vehicle the ability to produce more power than it uses, reducing electrical consumption by up to 80% per shift.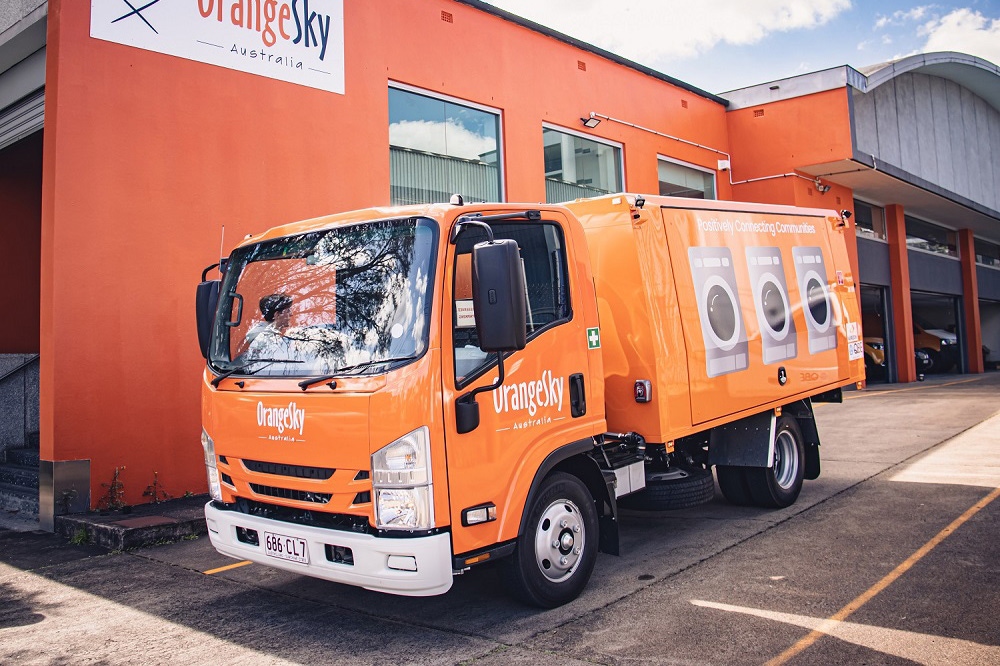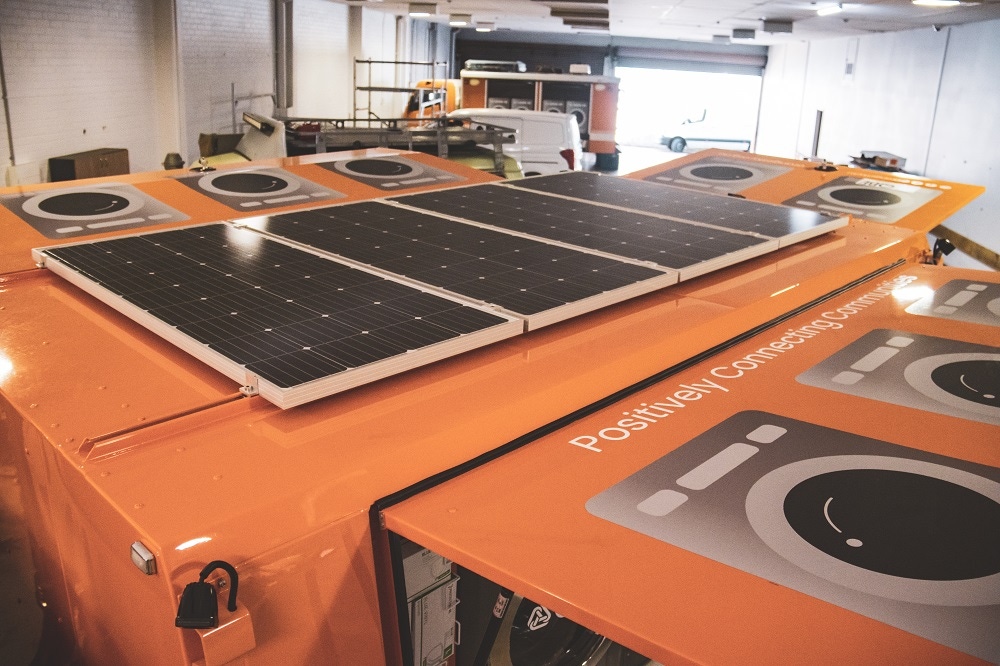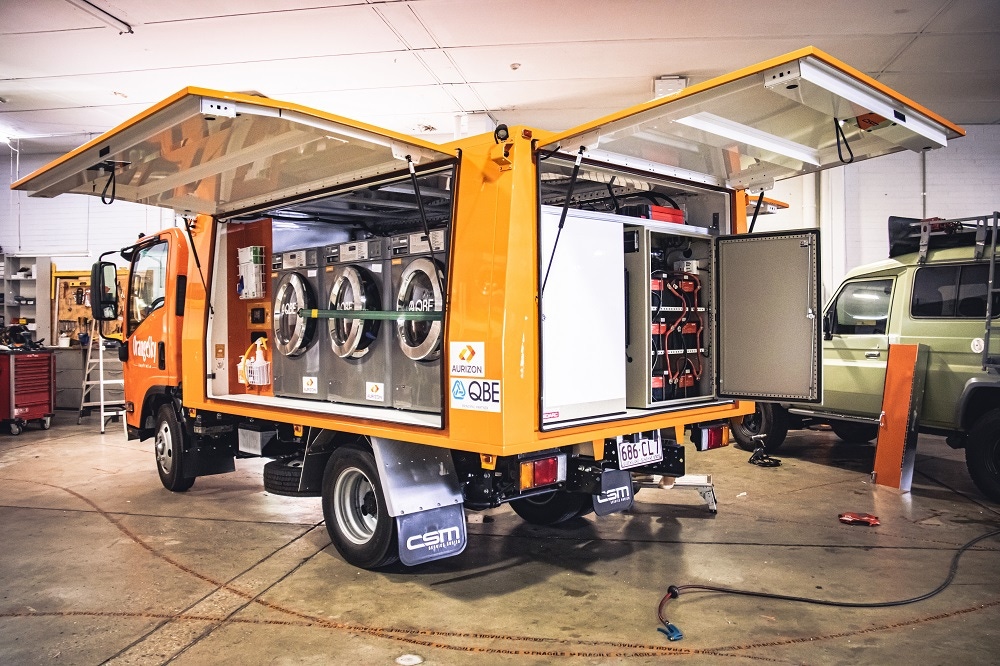 "The fit out of solar powered technology allows us to eliminate our diesel generator entirely. By doing so, we hope to see a significant decrease in vehicle servicing and maintenance downtime," Orange Sky Lead Engineer, Ben Battaglia said.
"The RV3.0 vehicles are also fitted with our newly created Waru Dryers, which reduces the electrical consumption from that of a regular clothes dryer by 90%."
Orange Sky Co-Founder, Nic Marchesi says exploring new and better ways to scale their impact and reach communities they never could have before is at the heart of what Orange Sky do.
"The thought of creating a more reliable, environmentally sustainable vehicle that has the ability to complete more loads of washing and drying and reduce maintenance requirements was something myself and the whole team were working towards for our remote community expansion, and thanks to the generous support of Canva and REDARC, our ideas have now come to life," Mr Marchesi said.
"The demand for washing and drying services in remote Australian communities is very prevalent, however in our efforts to support the remote communities, we found that due to the geographic remoteness, terrain and demand for laundry services, we needed to create a reliable vehicle that was built for the climate and greater usage, so that's where the RV3.0 came in," Mr Marchesi said.
Orange Sky undertook a three-month remote venture from March to June this year travelling to a total of 29 remote Indigenous communities from South Australia, the Northern Territory, and the northern ends of Western Australia and Queensland to connect with communities and identify where the most need is for the next Orange Sky service.
Leading the remote expedition, Orange Sky Remote Program Manager, Judith Meiklejohn says they have been inundated with people engaging with their services in every remote location they have visited.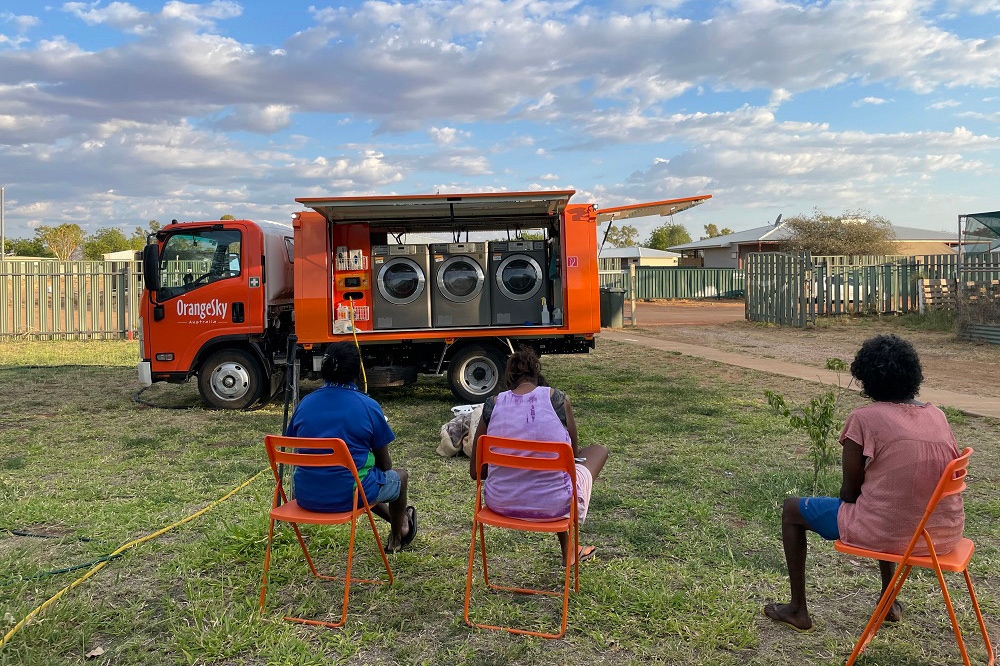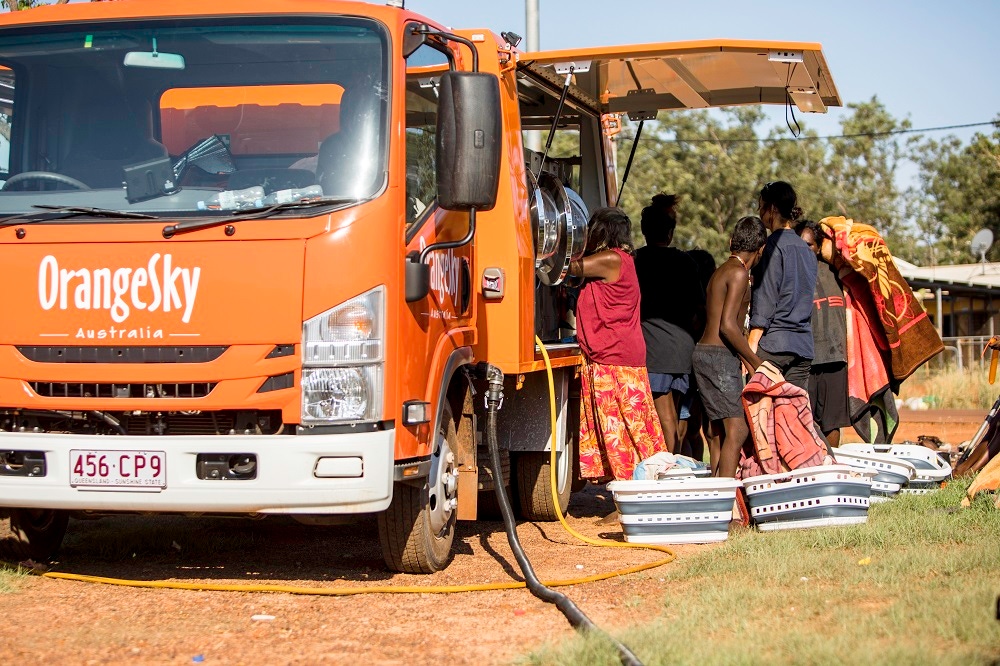 "Many people and families in remote communities don't have access to basic facilities like washing machines and if they do, they are often overused and don't last long - with new washing machines being extremely expensive and the geographical location making it challenging to find a technician to repair items," Judith said.
"Since introducing the RV3.0 vehicle to Wadeye alongside our local partner TDC, during our testing phase, we have been overwhelmed with the response from the community. The laundry van not only meets the strong demand for laundry facilities, but it brings together so many different families and clan groups, which is a really beautiful outcome."
Signing on to support Orange Sky as a National Power Partner for the next three years, REDARC Electronics Managing Director, Anthony Kittel says they believe in the Orange Sky mission to 'positively connect communities', a mission that strongly resonates with REDARC's values.
"We are delighted to partner with Orange Sky to support their remote community expansion plans. REDARC's mobile power tech provides a more reliable and sustainable mechanism for Orange Sky to deliver their critical mission," Mr Kittel said.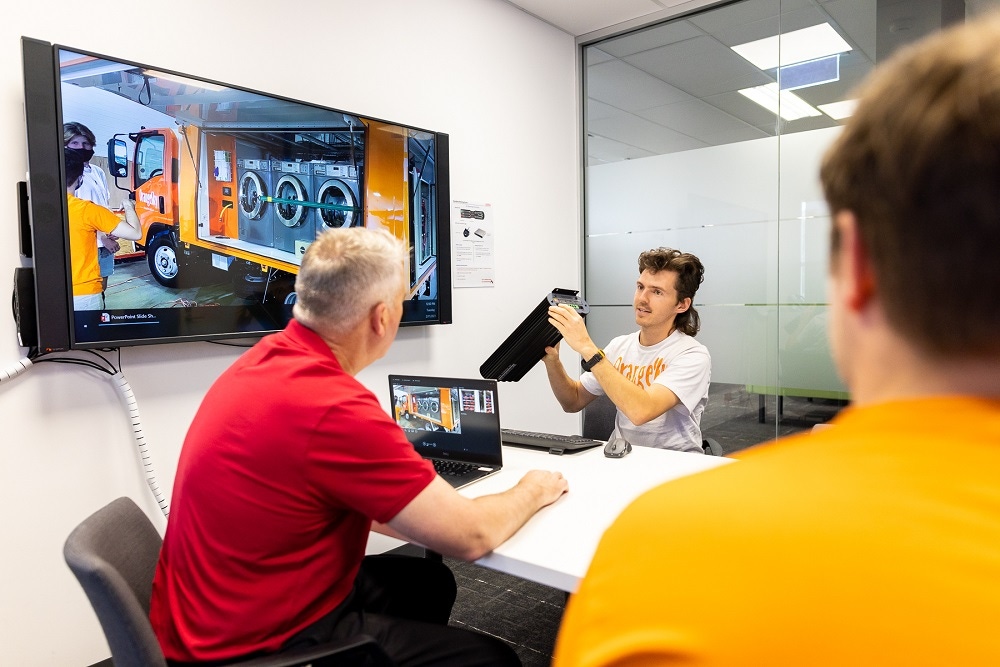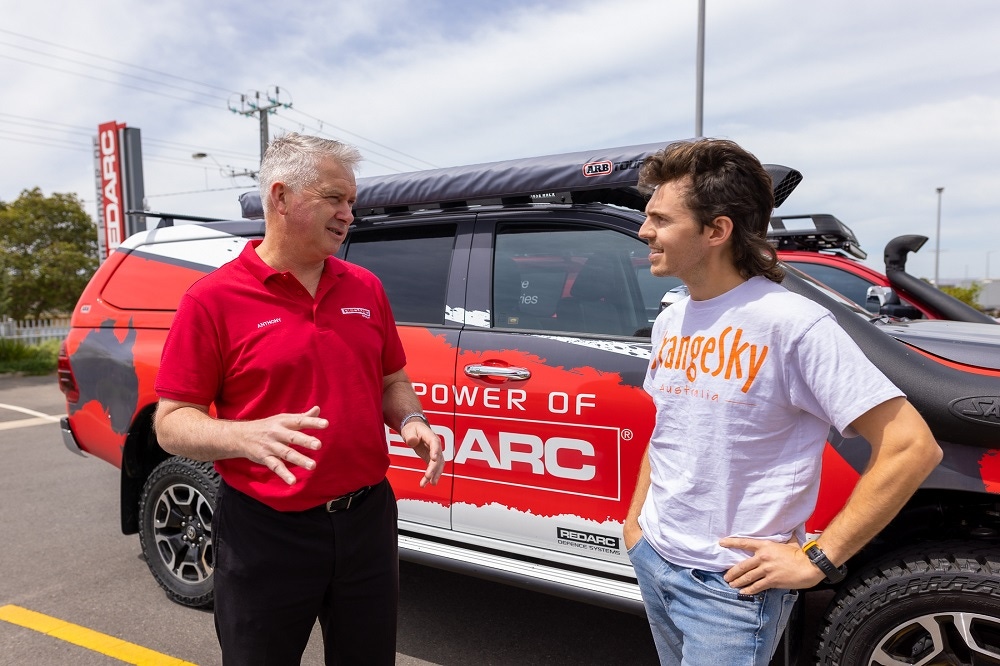 Similarly, Canva Co-Founder and COO, Cliff Obrecht says "it's fantastic to see Canva being used to help raise awareness for important causes and initiatives such as Orange Sky. Their team is doing an incredible job in remote communities across Australia, and we're glad to be a part of their journey."
As part of its mission to support the nation's most vulnerable communities, Orange Sky, in partnership with REDARC and Canva, will be introducing a total of eight RV3.0 laundry vehicles to their fleet, and fitting out three of their current laundry vehicles with the REDARC gear, with all 11 RV3.0 vehicles set to service remote communities.
ENDS.
ABOUT ORANGE SKY
Established in Brisbane in 2014, Orange Sky is the world's first free mobile laundry and shower service, now operating in 31 locations across Australia and 2 in New Zealand.
Our mission is to create a safe, positive and supportive environment for people experiencing homelessness who are often ignored or feel disconnected from the community. Staffed by volunteers who are empathetic listeners and great conversationalists, Orange Sky aims to positively connect everyday Australians and New Zealanders through clean clothes, warm showers and conversation via our iconic mobile orange vans.
ABOUT REDARC
REDARC is a private, Australian owned, innovative electronics company that employs 300 people and provides mobile, off-grid energy and safety management solutions to customers worldwide. Our inhouse design, production and technical support capability gives our customers the confidence to explore life and operate safely away from the grid. We are for adventurous spirits; those that like to push boundaries which often land them in mission critical situations where equipment must work. We test our products in some of the toughest environments on the planet and believe that products designed and made in Australia is a competitive advantage.
ABOUT CANVA
Launched in 2013, Canva is a free online visual communications and collaboration platform with a mission to empower everyone in the world to design. Featuring a simple drag-and-drop user interface and a vast range of templates ranging from presentations, social media graphics, posters, apparel to videos, plus a huge library of fonts, stock photography, illustrations, video footage, and audio clips, anyone can take an idea and create something beautiful. Canva is available on desktop, web, iOS, and Android.