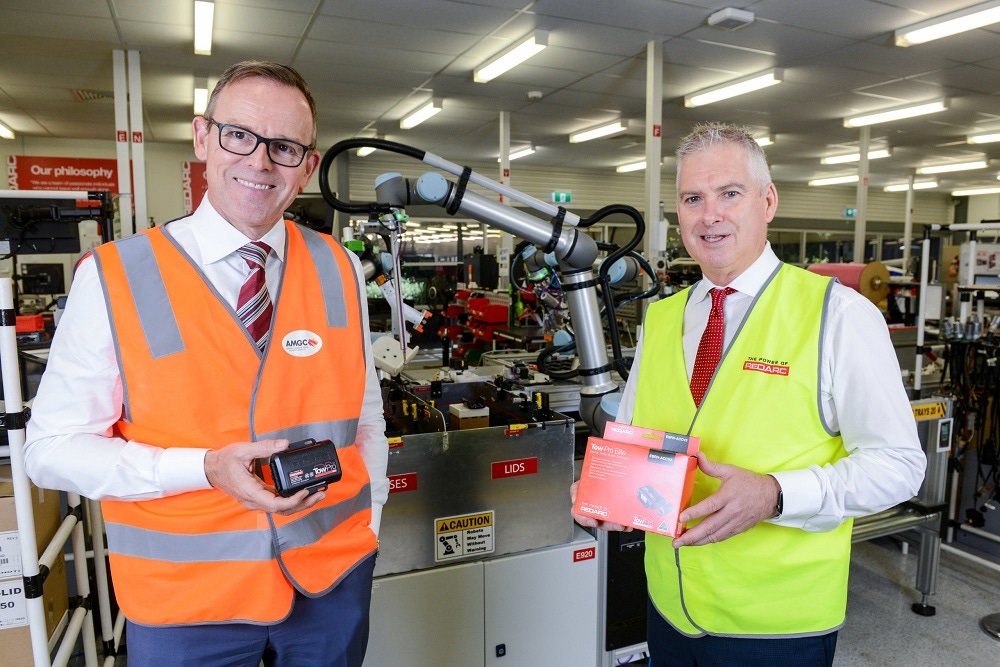 Photo credit: Advanced Manufacturing Growth Centre. Pictured (from left): REDARC Managing Director, Anthony Kittel & Dr Jens Goennemann
Australian electronics manufacturer REDARC will continue its modernisation journey through investment in cutting-edge Industry 4.0 technology and training, facilitated by support from the Federal Government's Advanced Manufacturing Growth Centre (AMGC).
Building upon our recent expansion, the co-funding investment of over $800,000 will extend our smart factory and skill capabilities across both in-house and supplier operations, and create up to 35 new roles.
"We need to have a nimble, agile and value-driven manufacturing base to be able to sustain that type of business and respond quickly to customer needs," explains Andrew Rogers, Manufacturing Engineering Manager for REDARC, "Industry 4.0 is more than a buzzword; it represents the next leap in technological prowess and competitiveness. It should however be viewed as a journey without end, because after digitisation there will be something else to adopt to ensure we maintain our competitive edge."
This project will further develop our workforce, Industry 4.0 technology adoption, and business process through collaboration with key supply chain partners and local suppliers and service providers.
Lessons taken from the project will be shared with the manufacturing community through an Industry 4.0 module on AMGC's Manufacturing Academy Website. Dr Jens Goennemann, Managing Director, AMGC, says that REDARC demonstrates what Australian manufacturers can achieve by investing in processes, people, and equipment before and after assembly, or the seven steps of the manufacturing value chain.
"There is a misunderstanding when it comes to the term advanced manufacturing, being advanced is not related to what you make, but how you make it. Being advanced is about continual improvement in your processes, workforce skills and products across the critical steps of design, research and development, logistics, production, sales, service and support," said Goennemann.
"REDARC understands the value of investing in people and equipment, and the competitive edge it delivers the company. By doing so, they remain globally relevant, competitive and a beacon for other local manufacturers."
For more information on the project, partner organisations and funding arrangements visit the AMGC Website.