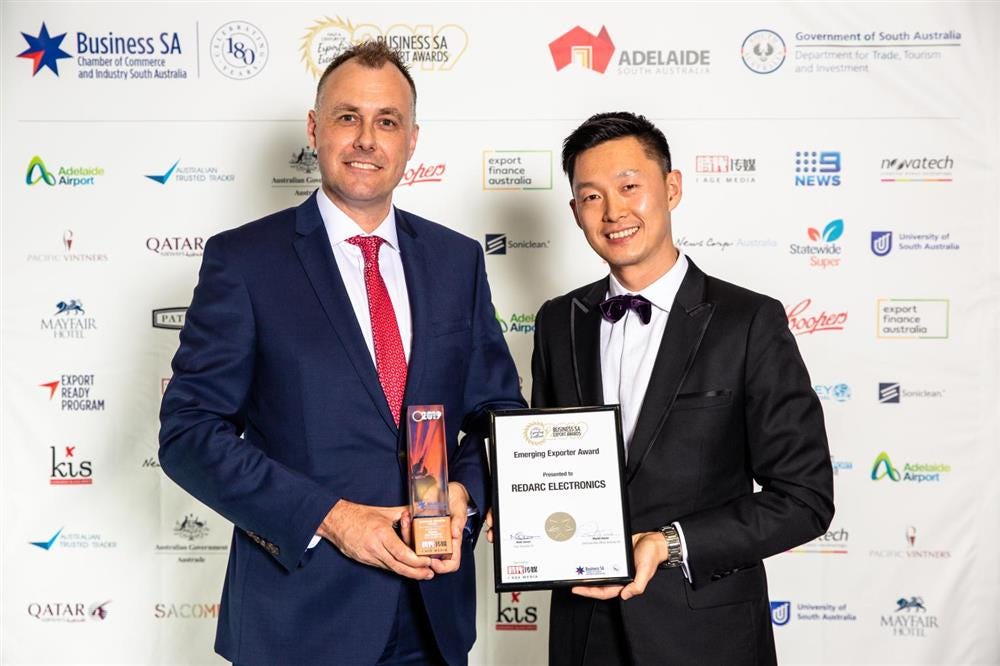 Craig Herriot, REDARC Electronics and Wayne Chao, I Age Media. Image source: Business SA
Advanced manufacturer REDARC Electronics, is delighted to have been announced as the winner of the Emerging Exporter Award at this year's annual Business SA Export Awards, held at the Adelaide Convention Centre on Friday the 18th of October 2019.
The Business SA Export Awards, now in their 57th year, recognises South Australian companies which are excelling in the international marketplace by selling and promoting their products and services.
The Emerging Exporter Award celebrates the outstanding export achievement of an enterprise in any industry sector which has been exporting goods or services for three years or less.
REDARC is currently taking domestically proven products to relevant export markets including North America (USA, Canada, Mexico), UK and Europe, New Zealand, the Middle East, South Korea and South Africa.
REDARC's ability to administrate growth is secured by their recent $22m investment into the company's advanced manufacturing facility, which has scaled up production capacity by 250%. Having also celebrated their 40th anniversary in August 2019, REDARC's growth is underpinned by four decades of electronics manufacturing knowledge and experience.
Managing Director, Anthony Kittel said, "Our investment is already supporting the domestic and export growth which we are experiencing, and this is really exciting for us," he said, "We are continually strengthening our global reach through our dedicated export strategies and I am pleased that REDARC products were shipped to more than 35 countries last year."
Export Manager, Craig Herriot said, "Domestically REDARC's success has been built on being a leader for innovative, high quality and reliable products backed by deep customer understanding and superior customer support," he said, "Being able to replicate these ingredients in our export markets has contributed to our success internationally."
REDARC now progress to the Australian Export Awards national final held at Parliament House in Canberra on Tuesday the 3rd of December.
For more information about the awards, please visit exportaward.com.au.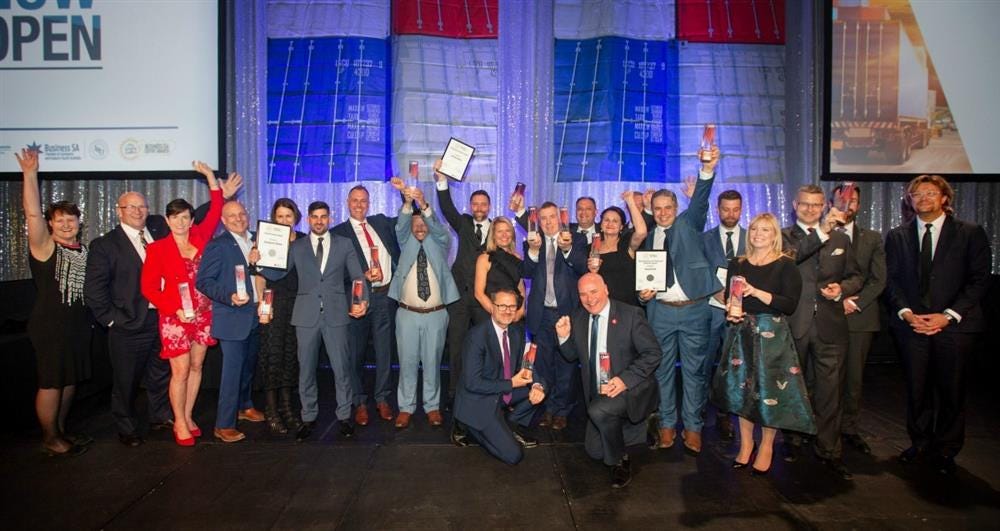 Winners at the Business SA Export Awards. Image source: Business SA