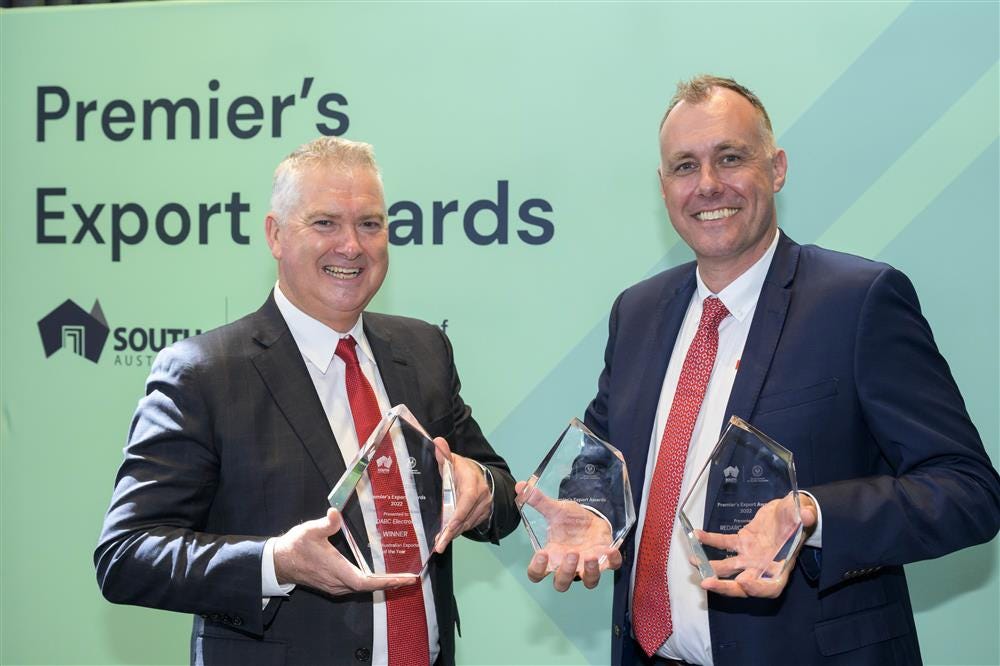 REDARC was honoured to receive three awards including South Australian Exporter of the Year at the 2022 Premier's Export Awards. During the event, held on the 28th of September, REDARC were also announced as the winner of both the Award for Manufacturing and Advanced Materials and Award for E-Commerce, and as a finalist for the Award for Sustainability.
These awards recognise excellence from South Australian businesses in the export of goods and services. Winning the Exporter of the Year award represents the outstanding work and efforts of the REDARC team in taking their domestically proven products to relevant export markets including North America, United Kingdom, Europe, New Zealand, the Middle East, South Korea and South Africa.
The Award for E-Commerce is awarded for outstanding success by a South Australian business in selling goods or services to customers via an electronic network.
The Award for Manufacturing and Advanced Materials is awarded to businesses with international success in manufacturing, engineering and advanced materials development.
Speaking on the award wins, REDARC's Managing Director, Anthony Kittel, said, "Like many businesses around the globe, REDARC has had to overcome many challenges during the last two years. These awards provide recognition to all of REDARC's employees, suppliers and distribution partners for their ability to overcome this adversity and deliver stellar results for our customers.
"Our export journey has taken great strides in the last few years since being named the South Australian Emerging Exporter in 2019. We are thrilled to be named South Australia's Exporter of the Year and we're excited on where our unrelenting focus on innovation, sustainability and differentiation will take us next."
As a South Australian award winner, REDARC will now go on to be a finalist in the 60th Australian Export Awards, which will be announced in November.
For more information about the awards, winners and nominees, visit export.sa.gov.au/premiers-export-awards