Ben Marsh, National Sales and Marketing Manager and Tim Chivers, Area Sales Manager.
On Friday the 17th of May the Caravan Industry Association of Australia (CIAA) held their Gala Awards night on the Gold Coast.
The high-profile industry awards provide national recognition for exceptional individuals in the caravanning and camping industry.
REDARC was honoured to receive the first Gerry Ryan OAM Award for Innovation for their RedVision Total Vehicle Management System.
The new Award celebrates the implementation of creative ideas that generate value. It was introduced by the CIAA in the name of long-standing contributor to the industry, Gerry Ryan OAM, who was the owner and founder of Jayco Australia.
Managing Director of REDARC, Anthony Kittel said, "It is an honour that RedVision has been recognised with the inaugural Gerry Ryan OAM Award for Innovation, gaining national recognition in the caravanning and camping industry," he said.
It has been an exciting week for REDARC as they had just celebrated RedVision winning the Australian Industrial Product of The Year at the 2019 Manufacturers Monthly Endeavour Awards, only one night prior.
The CIAA Gala Awards capped off REDARC's three-day interactive trade exhibition at the CIAA Conference 2019. RedVision continues to gain recognition since the product won a Good Design Award in 2018, and the CIAA Award highlights again, REDARC's innovation capability.
"Innovation is one of our leading company values, and by ensuring an innovative culture we continue to find success," said Anthony.
RedVision has received overwhelmingly positive feedback from end-users, installers and manufacturers who have praised it for its ease of use, simplicity and the new level of automation it brings. In addition to the caravan and camping manufacturing industry, RedVision sets a new level of automation in the RV and 4WD industries.
REDARC is also proud to be an Accredited Supplier to the Caravan Industry Association of Australia.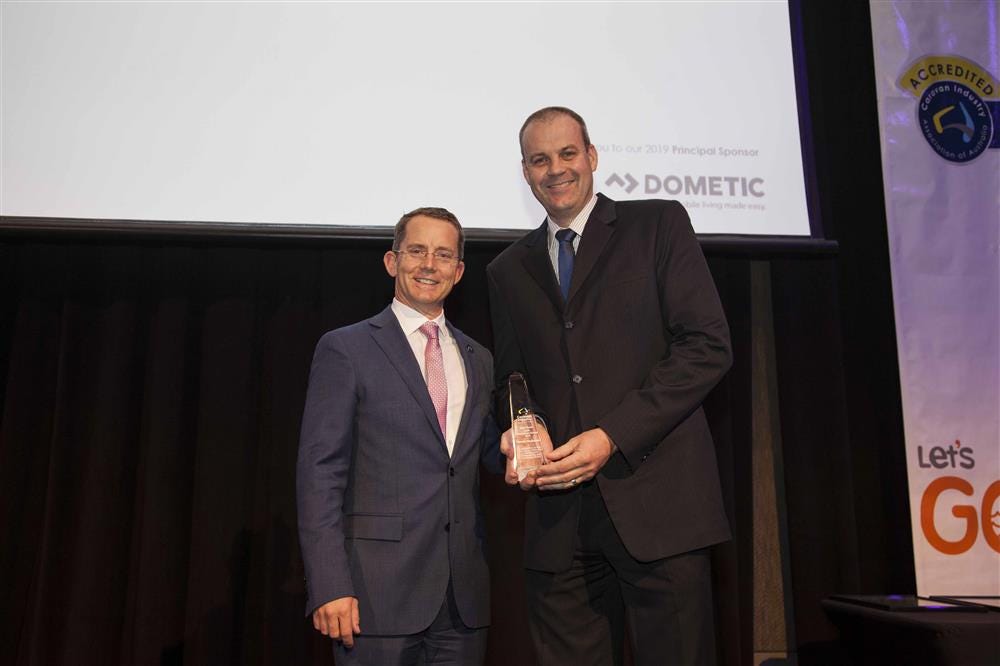 Grant Wilckens, Chairman CIAA and Ben Marsh, National Sales and Marketing Manager REDARC