REDARC is proud to announce that our RedVision Total Vehicle Management System has been awarded Australian Industrial Product of the Year at the 2019 Manufacturers Monthly Endeavour Awards.
The Manufacturers Monthly Endeavour Awards were established to recognise and reward excellence and innovation in the Australian manufacturing industry. They are the most esteemed and prestigious awards program for the manufacturing industry in Australia.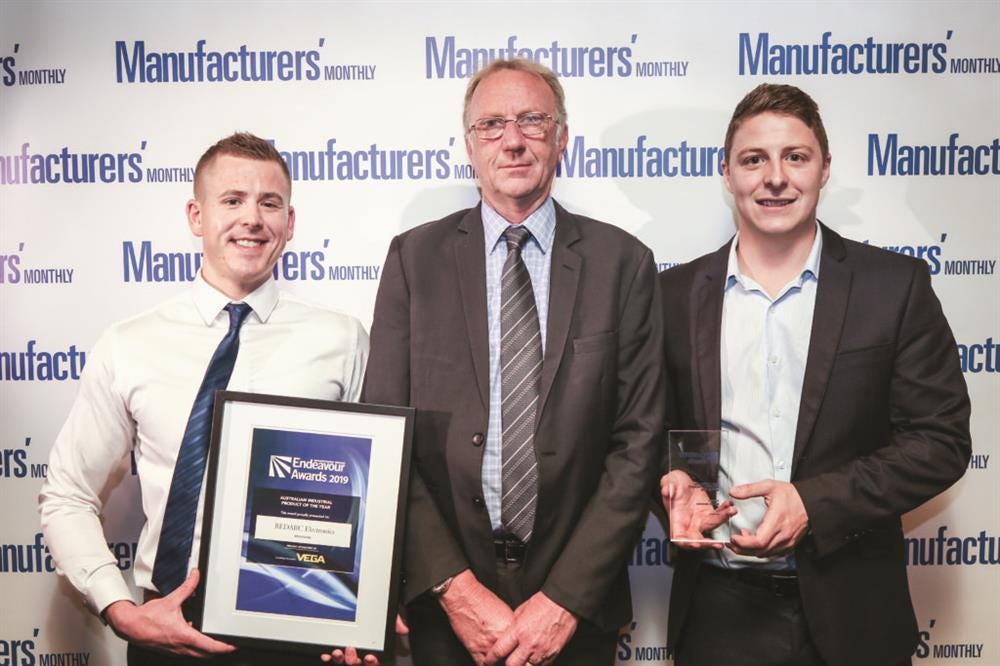 REDARC Victoria Sales Manager Cameron Bleakley (L) and Electronics Design Engineer, Tom Cross (R). Image sourced http://endeavourawards.com.au.
The Australian Industrial Product of the Year recognises Australian made and/or designed products and their points of difference to other available products designed for industrial application.
Speaking of the awards night, Managing Editor for Manufacturers Monthly, Syed Shah said, "Every year, we get a stronger pool of nominees for the prestigious awards up for grabs – a testament to the incredible growth of local manufacturing here in Australia."
Managing Director of REDARC, Anthony Kittel said he was delighted with the win.
"This award is the culmination of a true team effort to create an innovative product that exceeds customers' expectations. Our team is always committed to designing products that offer a distinctive experience from similar products on the market."
"Our recipe for success is our focus on innovation, teamwork and culture of continuous improvement, this allows us to manufacture products of the highest quality."
RedVision allows users to control multiple automotive aftermarket devices, such as turning lights, inverters, water pumps and other loads such as televisions, electric steps and fridges on or off. It also provides the monitoring of water levels, temperatures, energy (battery power) consumption and storage, with the battery information available when used with a REDARC 'Manager' battery management system.
The remote monitor display and customisable mobile phone app use a modern, user-friendly interface, by incorporating an easy to understand system layout. The robust display has been built and tested to withstand Australia's tough and varied environmental conditions.
RedVision simplifies installation thanks to its simple connections and CAN architecture, which requires less wiring, crimping and fusing components. With multiple systems combined into one screen or a wireless device.
Since its release, RedVision has received overwhelmingly positive feedback from end-users, installers and manufacturers who have praised it for its ease of use, simplicity and the new level of automation it brings.
This is the second major award for RedVision after it was awarded a Good Design Award Winner for 2018, by Good Design Australia in the Product Design Sport and Lifestyle category. The Good Design Awards are recognised by the World Design Organisation (WDO) as Australia's peak international design endorsement program.
RedVision is available through our distribution channels or direct from our website.
For more information on the Endeavour Awards, click here.