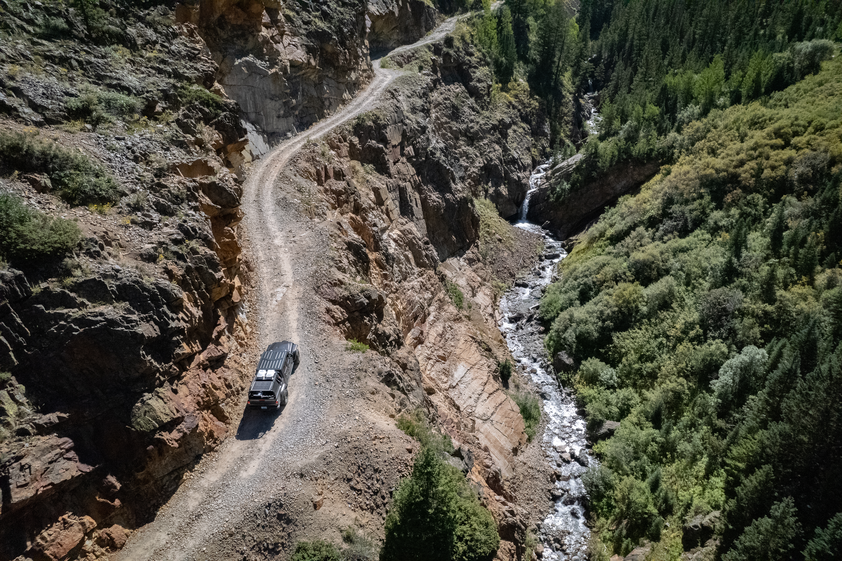 It's important for a beginner overlander to tackle some smaller trips before they tear up it up on a long and rigorous overlanding journey. To prepare for this, we have put together some tips for easier trips you can take before you take on the extreme.
Tips
1. Become fully self-dependable, minimal to no help is available if you get stuck.
2. Make sure your rig is high clearance.
3. Invest in reliable 12V gear and practice using this equipment on these easier paths.
4. Break down the trails into sections, like we have done below.
5. Check road warnings and weather forecast
Rules of the road
1. Uphill traffic has the right-of-way, but common courtesy works best
2. Vehicles must stay on designated routes
3. Leave historic sites and rock art untouched
4. Check with local cities and specific trails for additional regulations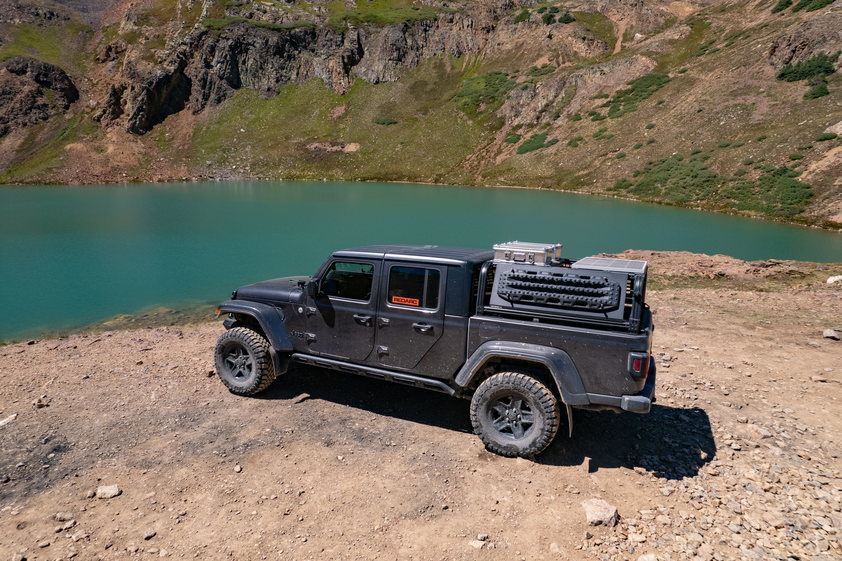 The Alpine Loop
The Alpine Loop winds through the spectacular scenery of the San Juan Mountains, connecting the communities of Lake City, Silverton and Ouray. For the easiest terrain, drive the Loop clockwise from Lake City or Silverton. That means you'll climb the hardest part of the Loop, the switchbacks on Engineer Pass, instead of going down them and avoid being on the outside of the road during the steepest drop-offs.
1. Stoney Pass
Difficulty: Easy
4-Wheel Drive Road: 10 miles
Minimum Time: 3 1/2 hours
Best Driven: May - October
Try this 10-mile point-to-point trail near Silverton, Colorado. Generally considered an easy route, this trail is great for off-road driving, it's also unlikely you'll encounter many other people while exploring.
2. Engineer Pass
Difficulty: Moderate
4-Wheel Drive Road: 20 miles
Minimum Time: 7 hours
Best Driven: June - October
Enjoy the 20 mile, point-to-point trail, moderately challenging route, near Ouray, Colorado. The trail is popular for birding, fishing, and off-road driving, but you can still enjoy some solitude during quieter times of day.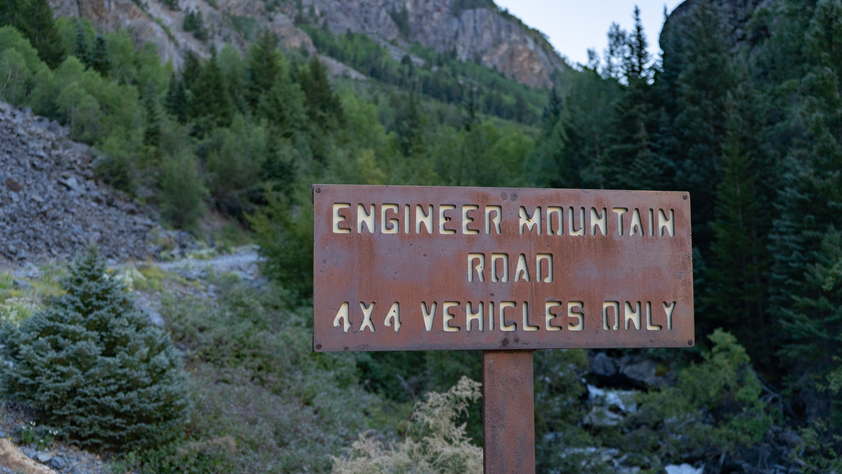 Moab
Moab is in south-eastern Utah, just 4 miles south of the entrance to Arches National Park, and 30 miles east of Canyonlands National Park. Beginner trails to start, include Chicken Corners, Gemini Bridges and Secrete Spine. For a deeper dive into more moderate-expert trails it's worth checking out our blog post; A guide to Moab: REDARC's guide for your next Moab adventure. For further questions, the Moab Information Centre on the corner of Main & Centre Street provides detailed maps and trail guides, with the staff always willing to help.
1. Chicken Corners
Difficulty: Moderate
4-Wheel Drive Road: 43 miles
Minimum Time: 3-4 hours
Best driven: June - November.
The route follows a spectacular part of Kane Springs Canyon, from the Colorado River Canyon just below Moab. Climb the Kane Creek anticline to Hurrah Pass and descend to benches above the Colorado River. The trail dead-ends at Chicken Corners about 400 feet above the river across from Dead Horse Point.
2. Gemini Bridges
Difficulty: Moderate.
4-Wheel Drive Road: 14 miles
Minimum Time: 2-3 hours
Best Driven: June - August
This trail covers a region between US Highway 191 and SR 313, reaching grand vistas and several other trails. The spectacular twin arch is a highlight, called Gemini Bridges, on the rim of an arm of Bull Canyon.
An entry fee is required in Sand Flats Recreation Area. For more information, please visit: https://www.grandcountyutah.net/287/Sand-Flats-Recreation-Area
3. Secret Spire Trail
Difficulty: Easy
4-Wheel Drive Road: 20 miles
Minimum Time: -
Best Driven: March - November
Explore this out-and-back trail, crossing the upper Spring Canyon, to visit the strange tower dubbed the 'Secret Spire'. It is a good trail for some mild four-wheeling through an interesting and scenic expanse of country.
4. Geyser Pass
Difficulty: Easy
4-Wheel Drive Road: 25 miles
Minimum Time: 2 hours
Best driven: May – September
Geyser Pass is a 25-mile scenic trail in the La Sal Mountains, featuring views of Mount Peale and parts of the Canyonlands National Park and Spanish Valley. This trail is perfect in the warmer months though may close due to snowfall in winter.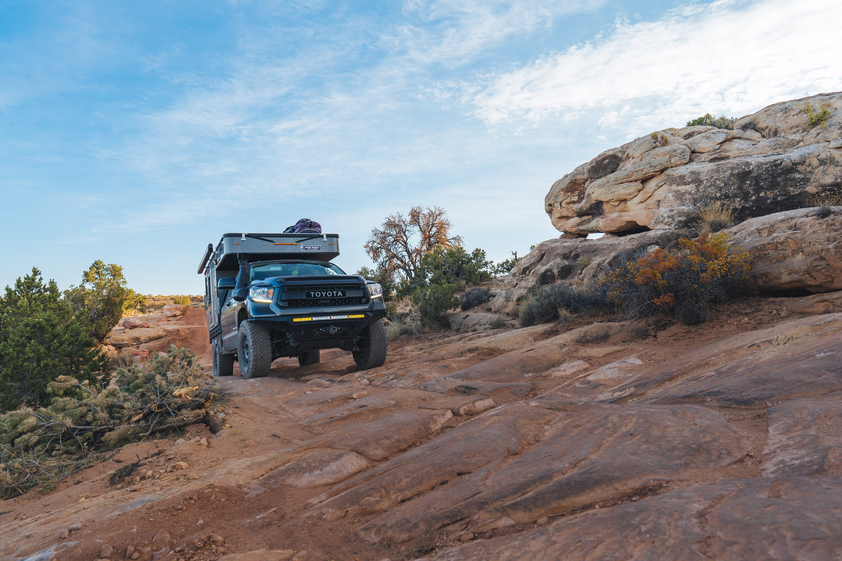 12V Gear
Solar power is an easy solution for charging electronic devices on the road. REDARC's solar panels are designed to complement your vehicle's current battery charging system. Fridges, lights, heaters, water pumps can all be run through solar panels and there are a wide variety to suit all vehicles. These variations include fixed solar on the roof of your car, folding solar that is easily portable and solar blankets that are compact in size.
A dual battery system can also improve your overlanding experience, by powering all your 12V accessories without draining your start battery. REDARC's Manager30 Battery Management System makes being on the road easy, it ensures that all your batteries are always fully charged and ready to go including solar and your start battery. Paired with a Pure Sine Wave Inverter, it creates smoother and more efficient running of all your household appliances. The whole setup can be wired up and tucked away in a canopy, camper trailer, etc.
Check out our blog post Building a 12V power system for extended travel to learn more about our off-grid power solutions.
The US varies in terrain, from lush forest trails to vast desert stretches and rugged cliff edges and trails rated 'difficult' are not for the faint-hearted as they're often some of the toughest in the world. Overlanding is mainly a problem-solving experience, so it's important to have the right equipment and preparation to ensure that you stay safe. For more information view our blog on desert driving tips and tricks.