To winch or not to winch? It's a question many 4WDers have asked themselves when looking to hit the tracks and put their rig through its paces. Unfortunately, it's not a question with a simple answer that is the same for everyone. To decide if a winch is for you, you'll need to have a look at your rig and consider a few different things.
What type of trip are you planning?
This is potentially the most important question when looking at investing in a winch. You need to have a good think about what your upcoming travel plans are and where they're taking you. If you only plan to travel on well maintained or sealed roads between caravan parks and campsites, then a winch is probably overkill. On the other hand, if 4WDing and pushing your rig to its limits is more your speed then a winch could be a good idea.
If you're planning on hitting some tracks or travelling alone then a winch is a cheap insurance policy that can save you from having to foot an expensive recovery bill or getting permanently stuck. Having one means that if you do get stuck, you can often get yourself out without much issue. Without, it's a case of either waiting for a friendly stranger to haul you out or scrambling to find a potentially expensive tow (that is if you're not too remote, otherwise you might need to say goodbye to your precious vehicle).
Which winch is which?
Like many 4WD accessories, the saying 'you get what you pay for' rings true. Yes, there are cheap winches available, but when this one piece of kit can mean the difference between you getting home and having to abandon your rig on the track, it pays to spend a little more.
The next decision you'll have to make is between steel cable and synthetic rope. While steel cable is more durable, affordable and requires less maintenance than synthetic rope, it is prone to rust and burrs as it wears. This decreases the strength and makes it more difficult to operate. Being less prone to fraying, it is the better options if you're planning to spend more time in abrasive terrains including rocks and sand.
Synthetic rope has been a winch option since the '90s, made from polyethylene it's much lighter and a perfect option for weight sensitive vehicles. It's also much less dangerous if it breaks. Being highly flexible makes it easier to wind back up but it also makes it susceptible to fraying, chemical and heat exposure damage. If you plan on doing a lot of water or deep mud driving, synthetic rope is the way to go as it floats, making water recoveries much easier.
Picking the right sized winch is also important. 8000-pound winches are perfect for smaller 4WDs, but 9500-pound winches are often more common and the way to go, giving you a bit of weight leeway. For heavier 4WDs or if you're towing a caravan or camper trailer, you'll want a 12000-pound winch. It's important not to go smaller to save money as winches do have a limit and you don't want to spend the money only to destroy it on the first use.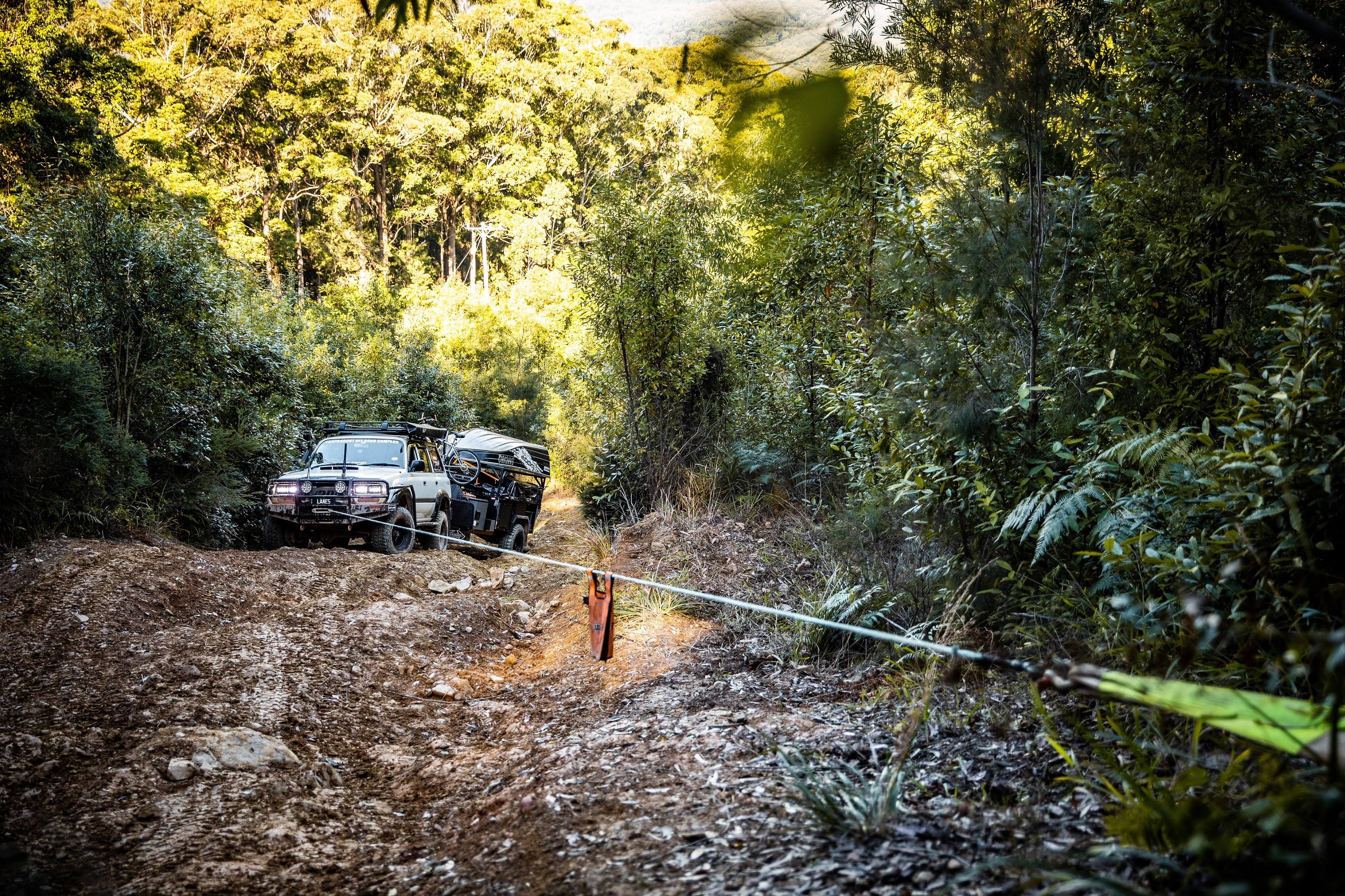 So, you've got the winch, now what?
Unfortunately, to be able to recover yourself safely and effectively you will need a few extra bits of gear. Having a winch kit is essential and often does not come with the winch itself. This kit ensures you're using the new accessory on your vehicle safely. A winch kit generally includes a tree strap (to avoid damaging your wire or the anchor tree), a pulley block (to decrease the load on the winch and increase it's pulling power), a pair of heavy duty gloves, shackles, and a small piece of rod that allows you to feed the wire into the winch without injuring your fingers. Like using a snatch strap, you will also want to use a dampener with your winch just in case the wire or rope breaks.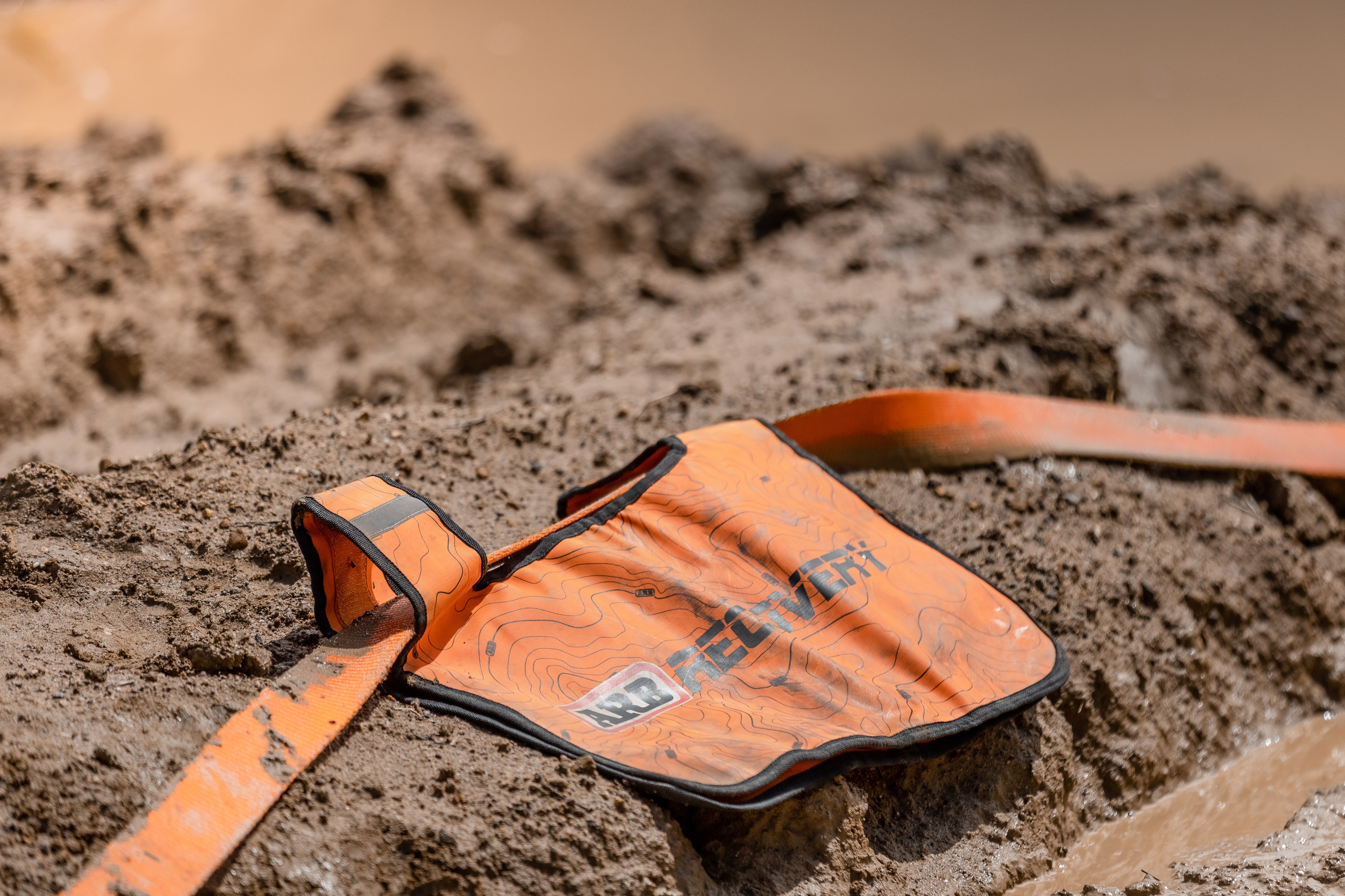 Having a good battery is also critical because there's no point having a winch if, when the time comes to use it, your battery cannot power it. This will mean looking at the power requirements of the winch and assessing whether your current battery is up to the task. If not, it may mean adding another battery to the cost of the winch. If you're looking to add or upgrade your batteries for more winching power, lithium batteries can be discharged lower than standard lead acid or AGM batteries, meaning you can use your winch for longer before draining the battery. Having an in-vehicle battery charger means you can charge your batteries while driving, for maximum winching potential.
No matter what size or type winch you're after it always pays to do your research and make sure you're purchasing the best, most suitable winch within your budget. It's also important to know how to properly use your new winch so you're ensuring safety for yourself, your vehicle, and the people and environment around you.
For more information on setting up your power system with enough power to run a winch, check out our post on nailing your 12V power setup. Or take a look behind our Toyota Hilux build and find out how we turned a stock Hilux into the ultimate off grid tourer.