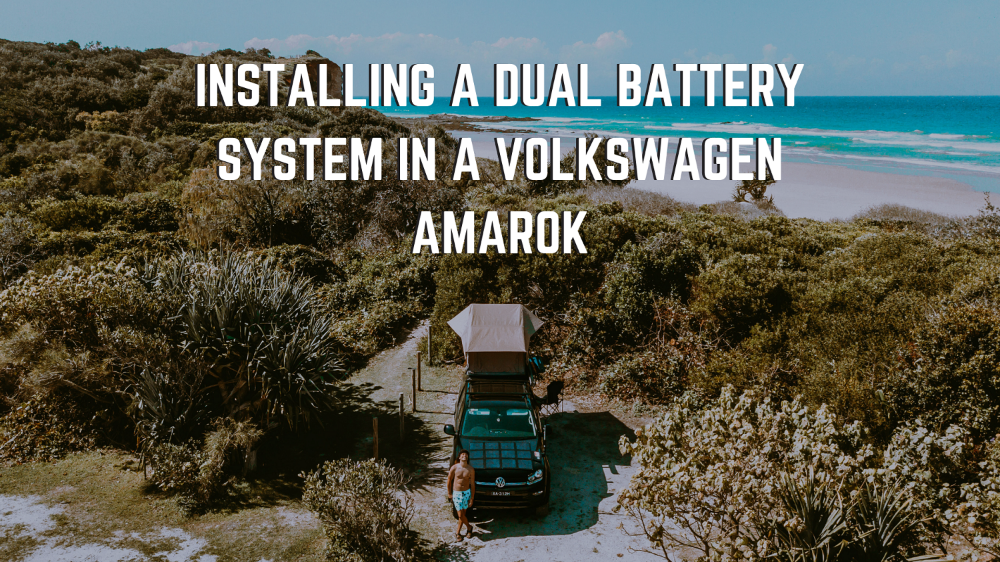 Want to install a dual battery system in your Volkswagen Amarok? When travel photograper Daniel first started dreaming of a 12v setup for extended travel in his 2017 Volkswagen Amarok, he really didn't know where to start. With the amount of information online and new gear constantly available, it quickly got confusing, especially for newbie to the off-grid power world.
Dan's goal when installing his off-grid system was to have the freedom and comfort of powering his gear, without any hassle or worry. As a photographer and videographer, he wanted to have the ability to keep his cameras, drone, and laptop charged whenever and wherever he goes – from moving between photography jobs to extended off grid camping trips.
Designing Dan's system
After a chat with the REDARC Tech Support Team and explaining what he wanted to gain from a 12v setup, they decided that he would need an in-vehicle battery charger, a pure sine wave Inverter and some solar. Having this gear installed into his canopy meant that not only would his auxiliary battery remain charged, but he could convert and use this battery power to charge his 240v household accessories.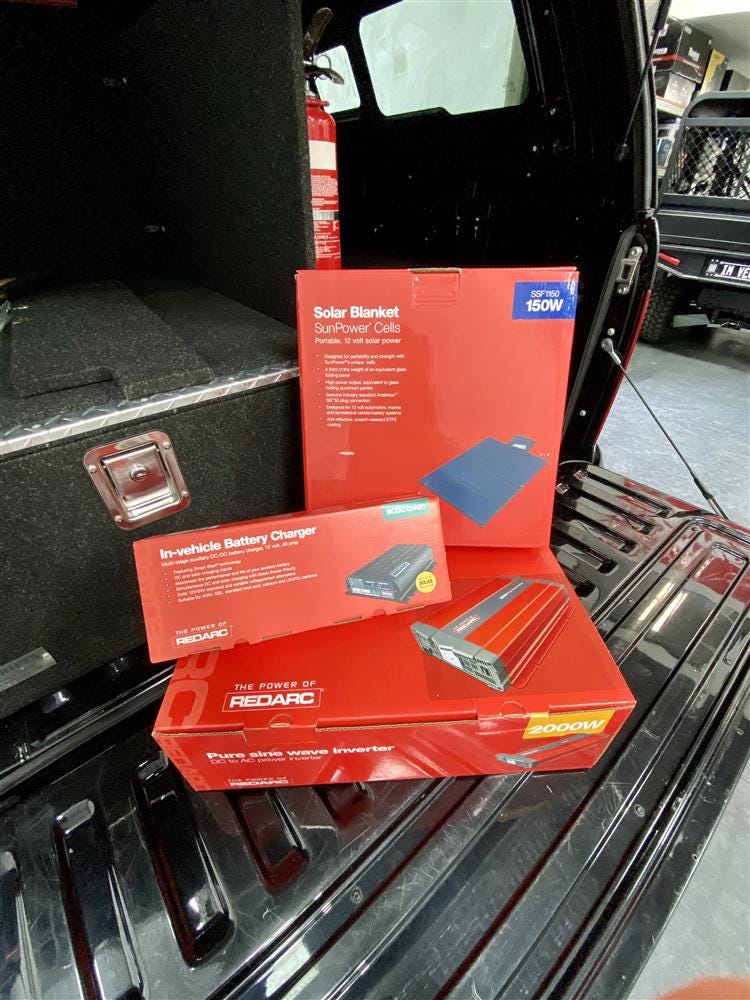 Because he already had a 150Ah AGM battery in the canopy of the Amarok, a BCDC1240D Battery Charger would not only connect the auxiliary battery to the starter battery to keep it charged while on the move, but also give Dan the option to connect solar to keep the battery topped up when setup at camp, thanks to the built in MPPT Solar Regulator. Though generally, a 200Ah battery tends to be the smallest battery recommended when choosing a BCDC1240D, the Tech Team reviewed Dan's battery specifications and decided it would be okay to use the bigger charger.
Keeping his gear powered off the grid…
Being a photographer and videographer not only does Dan need to power the usual stuff like a fridge and camp lighting, but he needs the ability to charge cameras, drones, laptops, and phones. This led him to deciding on also installing an inverter. Dan opted for a 2000W Pure Sine Wave Inverter, to charge and power any of his household appliances, "2000W might be a little overkill, but I'd much rather have more power than needed, than be stuck without any. It also gives me the option of running a pod coffee machine if I'm feeling fancy." As anyone with a dual battery setup knows, a charged battery means a fridge constantly running which equals cold beers 24/7!
Fitting it into the Amarok
When looking to install this setup into the Amarok, Dan decided to install it all in his canopy. As he generally camps in a rooftop tent, it meant he had plenty of canopy space available to play with. By installing the whole setup in the canopy, he was easily able to get it neatly wired up on a board that attaches to his 12v fridge and means the whole setup is within reach should he need to adjust anything in future.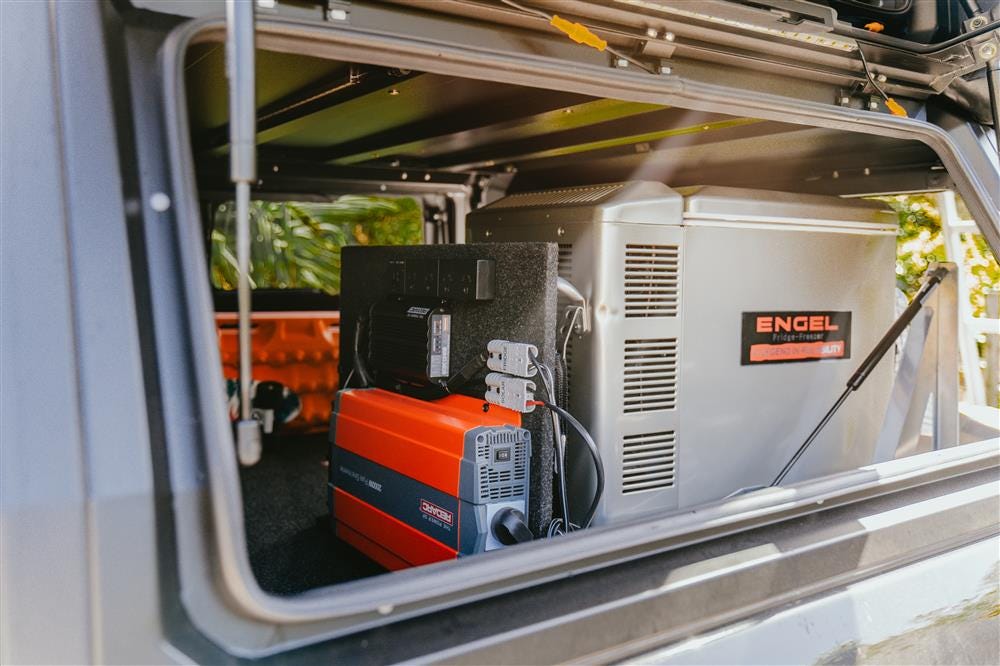 When deciding on a battery charger for the Amarok, Dan and the REDARC Tech Team had to take into consideration the smart alternator. In most modern vehicles, including the Amarok, smart or variable voltage alternators mean that the car will reduce the alternator voltage once it has determined that the start battery is fully charged. This can have detrimental effects on your dual battery system and secondary battery. To overcome this issue, the REDARC team suggested a BCDC Battery Charger, which is smart enough to overcome this voltage reduction and charge auxiliary batteries to 100%.
VW Amarok second battery placement

Because Dan wanted to install the BCDC into the canopy, the size of wire needed to be taken into consideration. When running extended wiring – over 3 metres in length – a bigger gauge of wire is needed. This is to avoid voltage drop as the current travels the longer distance. To install the BCDC in the Amarok's canopy approximately 4.5 metres of wiring is needed and the Tech Team suggest a 6 gauge wire.
Having a rooftop tent leaves little room for fixed panels on top of the Amarok. This meant that Dan had to come up with another option when thinking about connecting solar to his system. He opted to go with a portable 150W solar blanket. Not only does a blanket give him greater flexibility in placement when looking to catch the optimal amount of sun but it fits perfectly on the bonnet of the Amarok.
The install processes
Being not so handy with electrical work, Dan – like many people do – left the installation up to the professionals. For this he went to OnTrack Auto Electrical, "Not only did they fit me in last minute, but the work they did is second to none and as neat and tidy as can be. With the whole setup fitting into the canopy of the Amarok, there were no major issues setting it up and once the cable was run through to the canopy it was all relatively straight forward."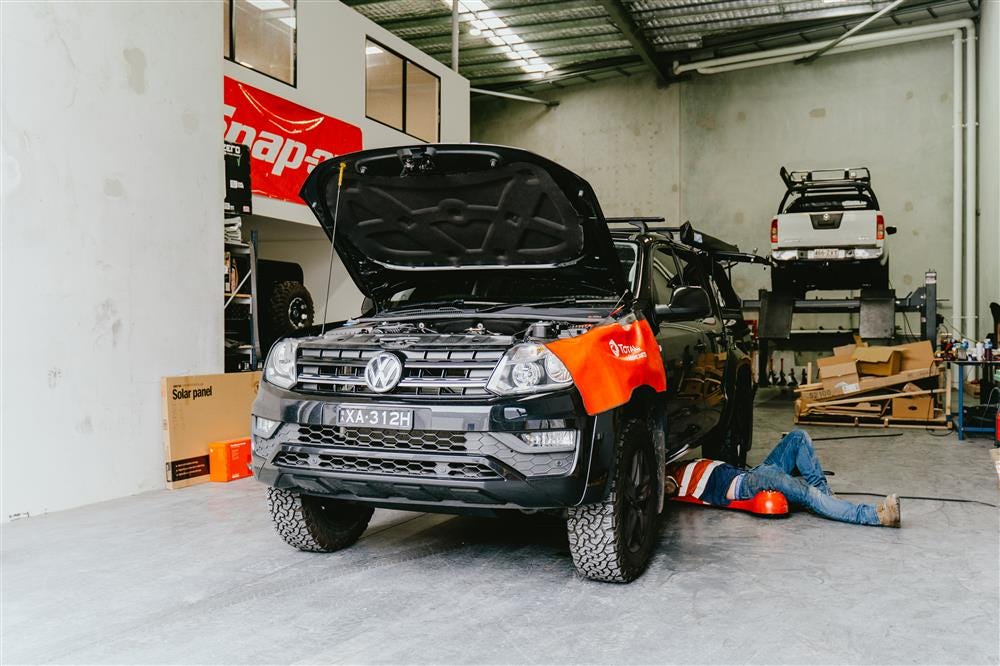 Proven reliability
Speaking on the setup in his Amarok, Dan says, "This setup has given me the ability to continue shooting photos and videos all day without worrying about running out of battery. Moving between photo jobs I can also charge up my gear whilst on the move. This setup means I can be at ease on extended off grid camping trips utilising my solar blanket to keep the battery topped up. I now have the freedom to stay out bush longer than ever, without having to worry about any of my gear going flat."
After now having spent a few months with the setup, he can confidently say it works like a dream. "From weekenders to extended trips and being setup at camp for 3-5 days, I'm absolutely loving it and haven't come close to losing any significant charge. The system has absolutely fulfilled my goals for it."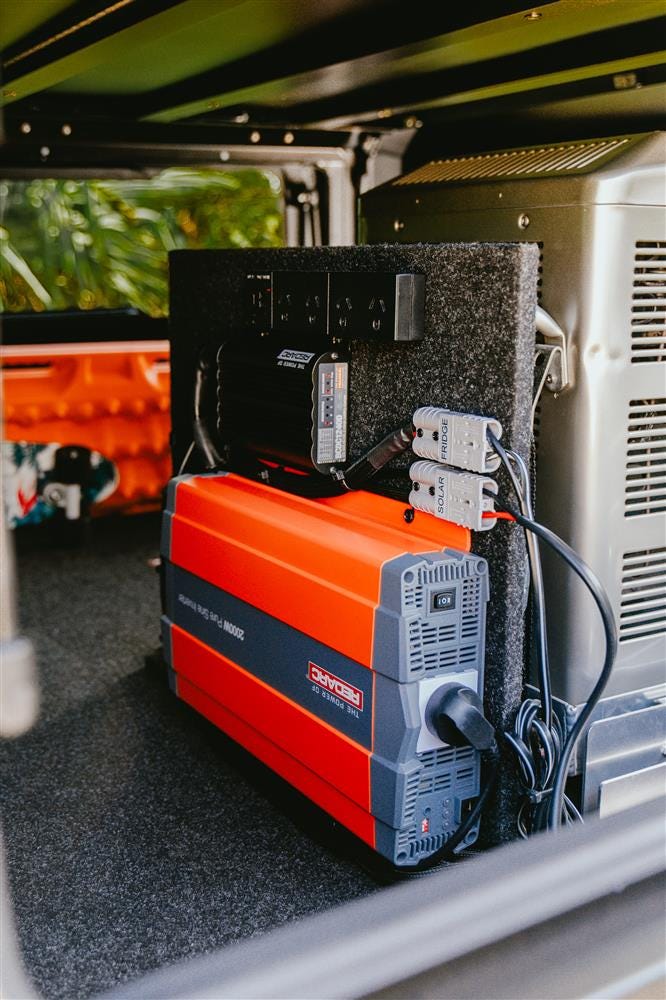 "So far, it has really stood out on a recent off grid camping trip where I was parked and setup in the same spot for 5 days. During this trip I was shooting photos and videos daily, editing on my laptop and having to recharge all my gear every evening. The system didn't let me down once. I wouldn't change a thing, and if you're contemplating a setup like this, I couldn't recommend it more!"
You can check out more of Dan's life, travels, and work on his Instagram and website. To learn more about installing a 12v setup in a Volkswagen Amarok watch Pat Callinan's ultimate VW Amarok canopy build.