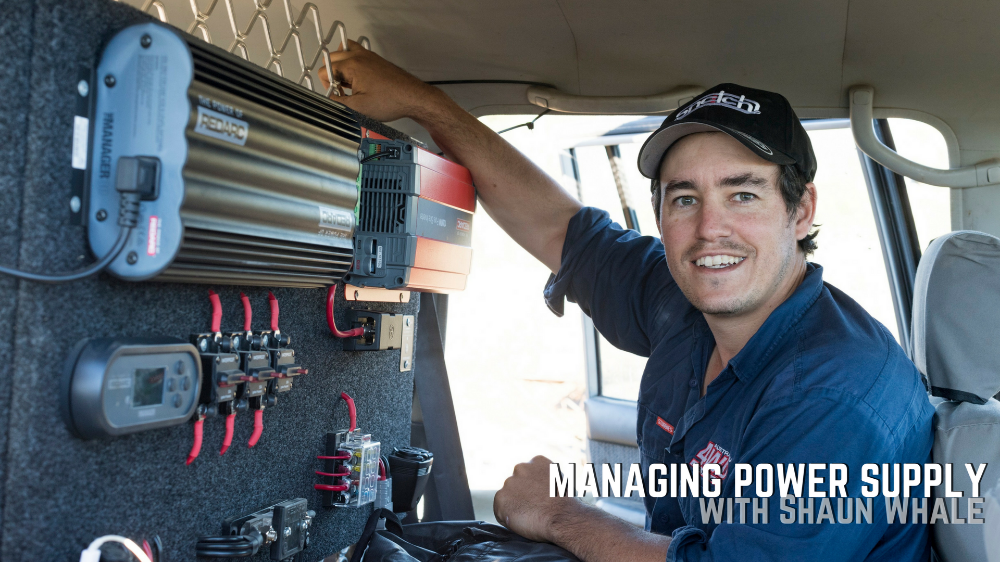 When Shaun gets away there is one thing for certain and that's that he needs to stay on top of managing the power supply in his vehicle. It's the only way to safely get to the top end of Cape York or to Norval Park, Bundaberg. Read on to find out how.
Managing 12v Power
I will admit, I'm a bit of a 12V nerd. One of the first DIYs I ever did in my very first 4WD was a dual battery system. It was a very basic solenoid setup that took me the best part of a weekend and saw many tools thrown from one side of the garage to the other, but it worked and allowed me to have more 12V power at the campsite. Since then, 12V power has been one of my favourite upgrades in my 4WD as it allows me to run things like a fridge and camp lights, and really transforms the way I camp out in the bush. These days I spend more time in the bush than just about anywhere else and reliable 12V power is one of the most important parts of my setup.
The last vehicle I built up, 'Sooty' the Toyota LandCruiser 80 Series, was purpose-built to be a 4WD Action vehicle. That means that it spends most of its life off road in some of the most punishing conditions, and when it's not driving hard tracks it is my home away from home. Because I literally live out of this vehicle for a huge chunk of the year, of course, 'Sooty' needed a very special 12V system that was going to allow me to live and work off the grid.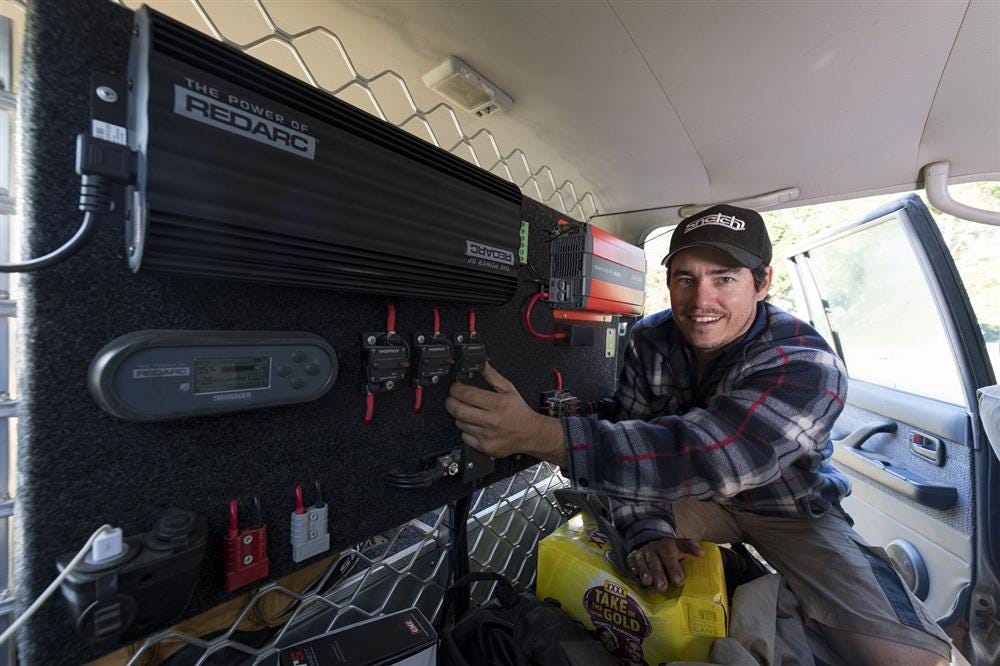 Managing power supply with The Manager30
It was a very easy decision to run REDARC's The Manager30 as the backbone of my charging system as I wanted this setup to be super-efficient and bulletproof. After running the BMS (Battery Management System) 30 for the last 18,000km I can easily say that it's the best charging system I've ever had.
What makes this system so good is that it is essentially 6 products all in one.
It's a smart charger that pumps 30amp of power at your auxiliary batteries and is able to keep them at full charge and it top health quickly and efficiently.
A

smart battery isolator

which means that when you are not charging your start or crank battery is isolated from your auxiliary batteries and won't go flat and you'll always be able to start your vehicle no matter how much battery power you use.
A

solar regulator

so you can harness the power of the sun and stay out in the bush for longer. On top of that, this clever little unit also has a 'green priority' in that it will always take solar power as a priority, even when your vehicle is going and giving charge, putting less strain on your alternator.
A load disconnect controller, which is a safety feature to keep your batteries from discharging completely, which would dramatically decrease the life of any AGM or lead-acid battery.
A 240V charger, so when you get to a powered campsite or get back home you can plug your system into mains power and top your batteries up and keep them on a full charge.
And, a very clever battery and charging monitor display unit that makes it very easy to see what is happening with your entire setup with regards to charge and discharge. It will even log how much solar you have made for the day so you can manage your power precisely and plan ahead.
There's no doubt that The Manager30 is the most advanced DC to DC battery charger on the market and just works without fuss every time. After trying just about every battery charging system in my 4WDs over the years, I've finally found a setup that I have absolute trust in. The only issue now is, that the camera crew keep charging all their camera gear in my vehicle because it works so well!
Cheers,
Shaun
Looking to start your 4x4, camper trailer or caravan upgrade but not sure what products will allow you to travel the way you want? Take the REDARC Hilux product tour or check out our dual battery selector tool to find out what products are best for your power management and towing needs.