Power Setups for Under-bonnet, Cabin and Canopy.
In this blog, REDARC delve into one of the numerous approaches to setting up power under the bonnet, in the cabin or in your canopy. The products have been categorised into basic, better, and ultimate solutions, making it easier for you to find your ideal setup.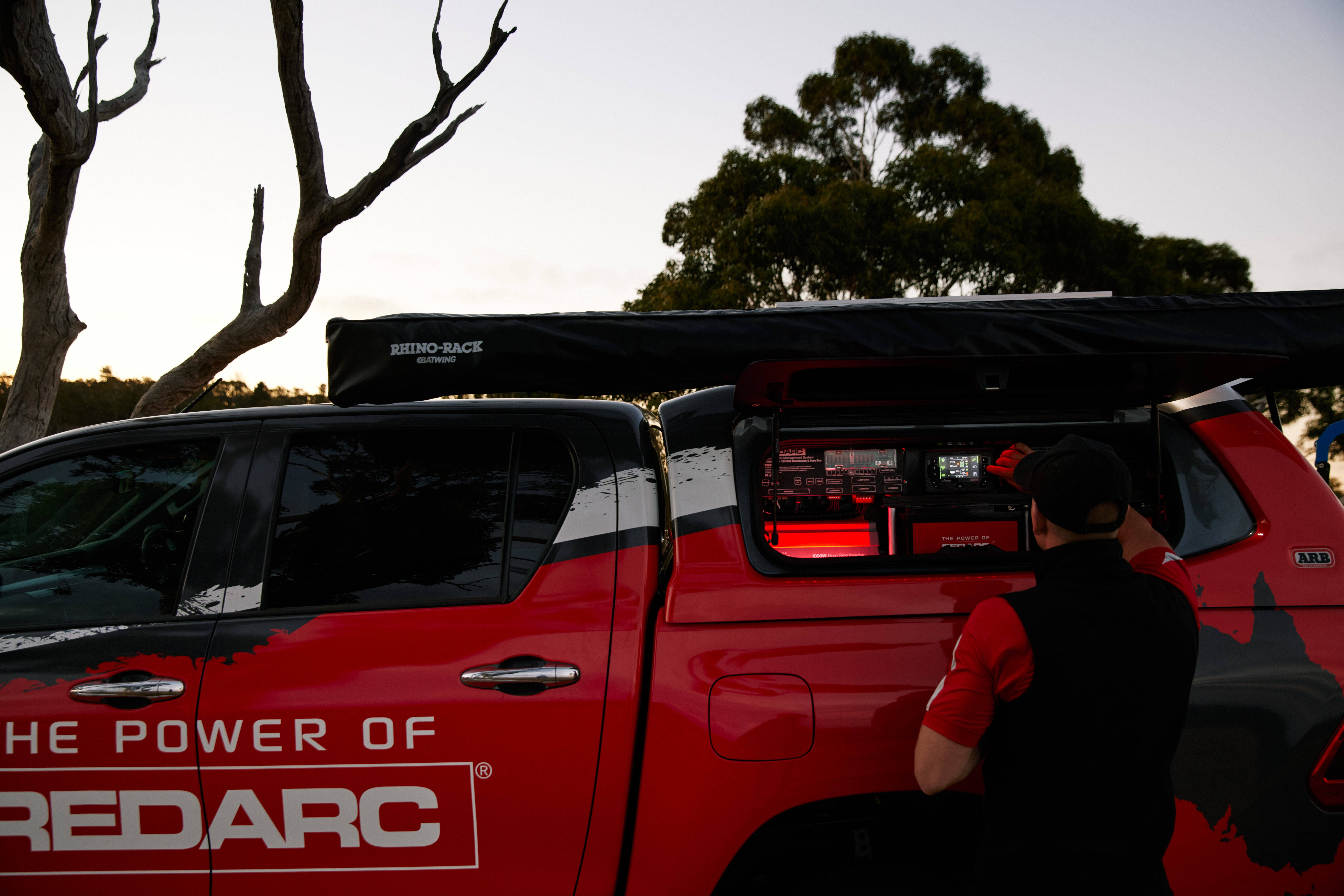 Under-bonnet Power Setup
An under-bonnet setup often works better in older vehicles that have space in the engine bay or in more typical 4x4 vehicles. The advantage of having a dual battery system under the bonnet is that it provides more room, and you can just 'set and forget'.
Basic - SBI12
The Smart Start Battery Isolator range protects your primary battery by using your alternator to charge your auxiliary battery. REDARC's Dual Battery Isolators are compact in size and easy to install under-bonnet. Not to mention, they have a sophisticated fault detection system that warns of over-voltage, voltage drops and excessive draw conditions. Run all your 12V accessories including a fridge, compressor, UHF. They are considered REDARC's basic option as they cannot be monitored.
Better – BCDC
This rugged battery charger can withstand temperatures up to 50 degrees, perfect for the Australian outback. REDARC's BCDC not only charges an auxiliary battery when the vehicle is running but can easily connect to a portable solar panel or blanket via an Anderson plug for added charge. This BCDC option is considered better than the SBI, due to its optimum charging every time and suitability for all battery types including lithium, AGM, GEL standard lead acid and calcium.
Ultimate - BCDC and SBI12
For the ultimate set up, pair the REDARC Smart Start Battery Isolator with a BCDC. The benefit of the DC charger and Smart Start Battery Isolator running in unison is that if your vehicle has a flat battery, the SBI can jump start it at the touch of a button.
With all this power and the ability to withstand the harshest conditions, you can count on this Ultimate REDARC set up for your next adventure. Shop 12V battery isolators at REDARC!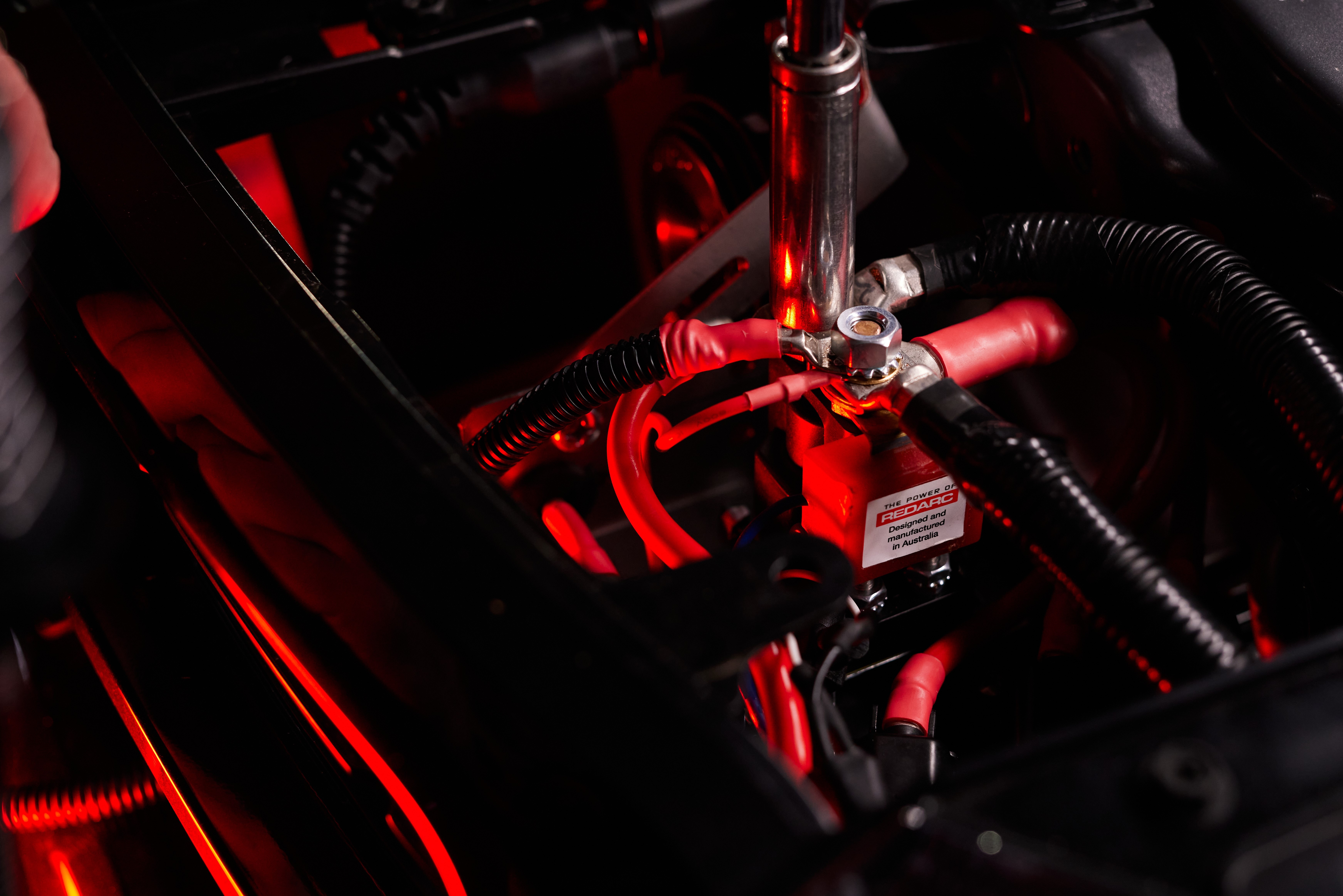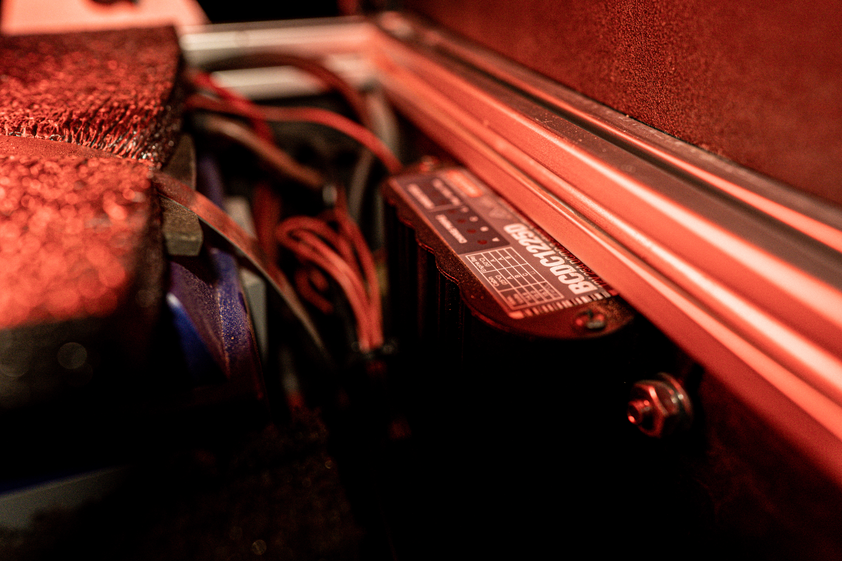 Cabin Power Setup
Having a cabin power setup means that you have easy access to connecting 12V accessories and there's typically more room for larger battery systems.
BCDC with Dual Battery Gauge
The REDARC BCDC paired with a dual battery gauge, as the ultimate cabin power setup, creates visual and audible alerts of your battery voltage. REDARC's Dual Battery Gauge is a quick and easy way to check if everything is running smoothly in your rig, monitoring both the start and auxiliary battery. A REDARC dual battery gauge monitors your battery voltages and has customisable warnings and lighting colours.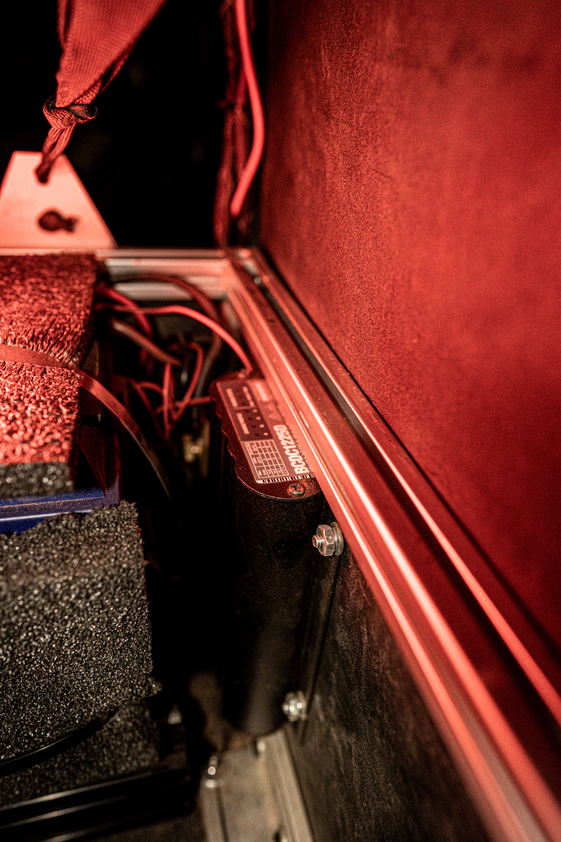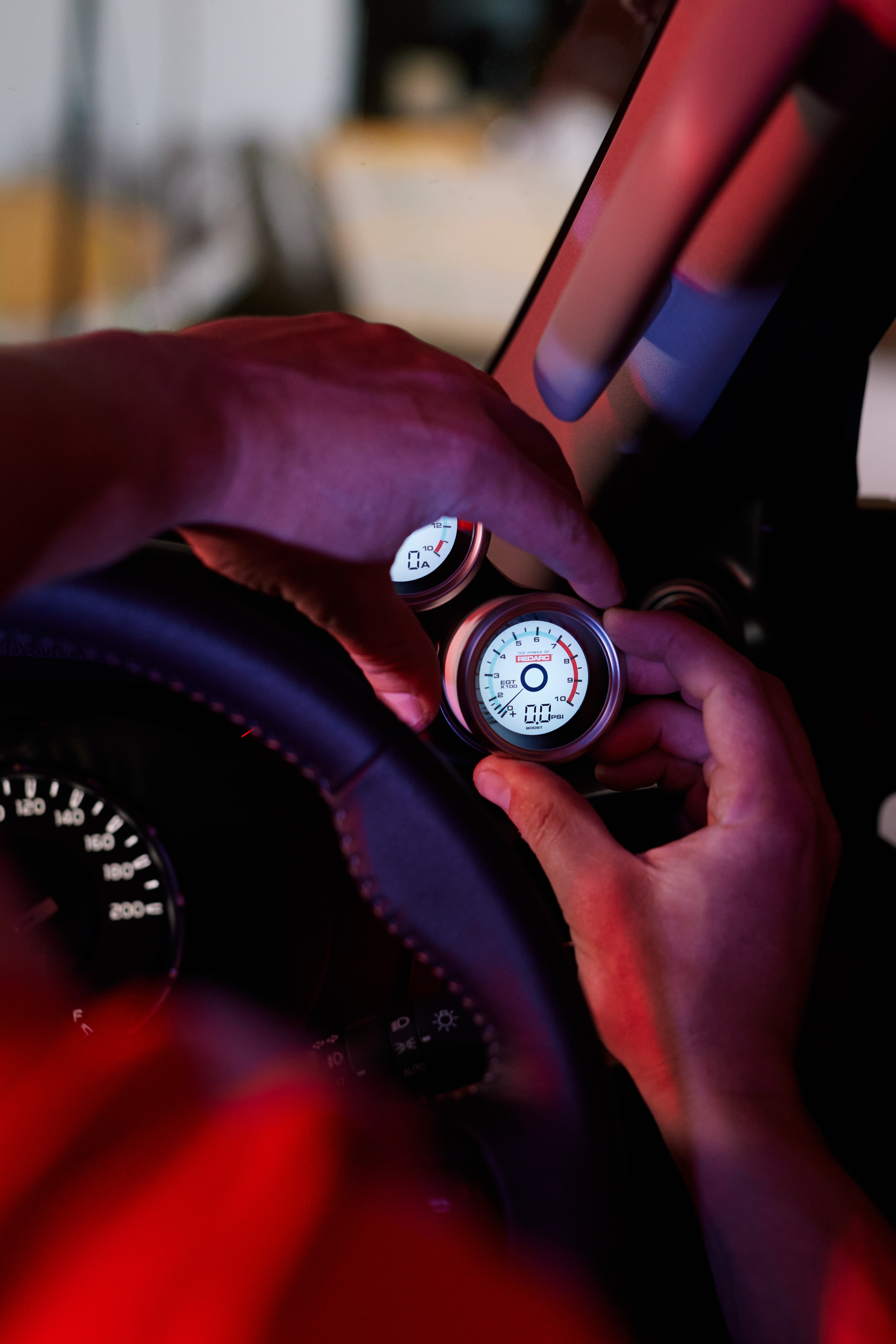 Canopy Power Setup
Run anything from a dual battery charger like a BCDC, Manager30 Battery Management System and a RedVision TVMS in your canopy to keep your batteries charged.
Most commonly 4x4 vehicles are built with just one starting battery, hence it's a good idea to install a second battery for auxiliary purposes. Increased battery capacity enables loads to run when the vehicle is turned off. Canopy installs are perfect for a lithium battery, as they are unable to be installed in the engine bay. With the auxiliary battery in the canopy, you can arrange your REDARC power products around it to suit your travel needs.
Basic - BCDC
Enhance the capabilities of your vehicle, by incorporating REDARC's BCDC Dual Input Battery Chargers. Fit this device in the canopy to prevent any voltage drop issues and charge your auxiliary battery to 100%. We recommend the BCDC be mounted within 1-metre of the auxiliary battery, for optimal performance of the charger.
The BCDC is a lithium battery, protected from water, dust, humidity, mud, heat. It also protects your start battery from excessive discharge, while ensuring optimum performance from 12V gear. Additionally, it serves the purpose of safeguarding your start battery from excessive discharge, while also ensuring optimal performance from your 12V equipment.
The REDARC BCDC includes built-in Green Power Priority and will select solar charging first, meaning less load on the alternator. Suitable for 12 or 24V systems, the unit will also work with either standard or variable/smart alternators.
Better - Manager30
Compact in size and designed with installation in mind, a vehicle battery monitoring system will take your adventure a step further. REDARC's Manager30 installed in the canopy, keeps your batteries charged by taking power from the vehicle's alternator, as well as solar and mains power. This means that no matter whether you are parked up or on the road, there's always charge going back into the batteries. The Manager30 operates like 6 separate products, it charges an auxiliary battery from the vehicle while on the move, it's a 240-volt charger, a solar regulator, a battery isolator, a load disconnect controller, all with a remote coloured RedVision battery monitor, making it market-leading.
Ultimate - Combo RedVision System
REDARC's Combo RedVision System is the ultimate off-grid power solution, manage your power anywhere, anytime with RedVision from REDARC. Combining the smarts of the TVMS Rogue or TVMS Prime and the power of the Manager30, this product allows you to manage your power requirements and control your 12V circuits with the touch of a button.
Not only do you have six dedicated tank level sensor inputs, two ambient temperature inputs and a voltage sensor, but also two configurable analogue sensors to use for anything from water levels, temperature, or voltage. It's a one stop shop for control and monitoring.
The Combo RedVision System includes everything you need to power your next build, just add batteries, cables, and fuses. Control all accessories from your smartphone* and get battery vitals with the Manager30, monitor water levels, temperature etc.
With two RedVision colour displays, one on each side of the canopy, all accessories can be controlled from multiple points around the vehicle as well as through the RedVision smartphone app.
*TVMS Rogue Configurator app is now available for both iOS and Android, it's only required for initial installation and setup.
Easy to install and use in the canopy along with all your other 12V gear. Having all this gear in one place makes it easy, providing a centralised and organised location for your power equipment and making it easier to access and manage.
Free up valuable space in the cabin or under the bonnet and allow for a convenient and clutter-free interior.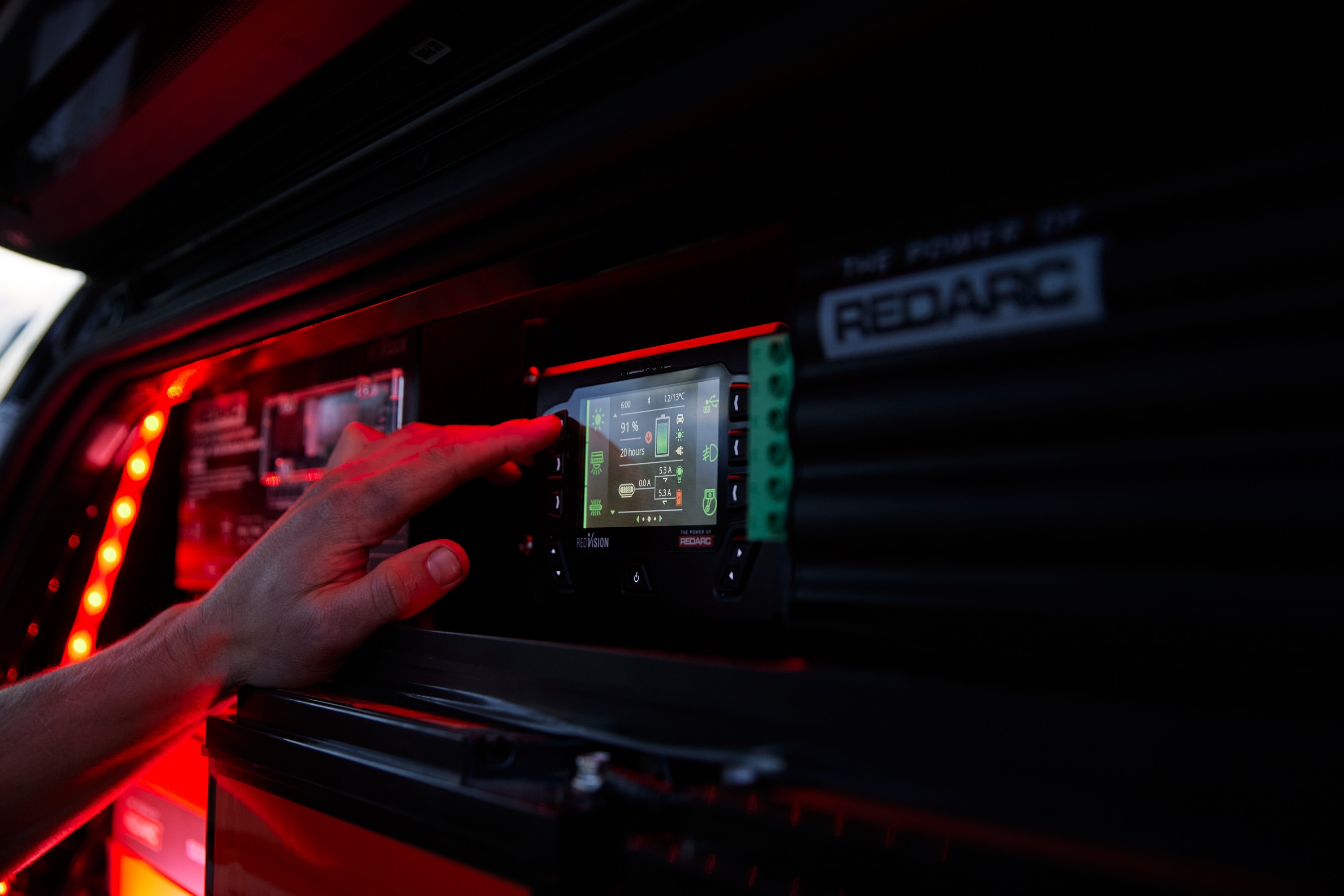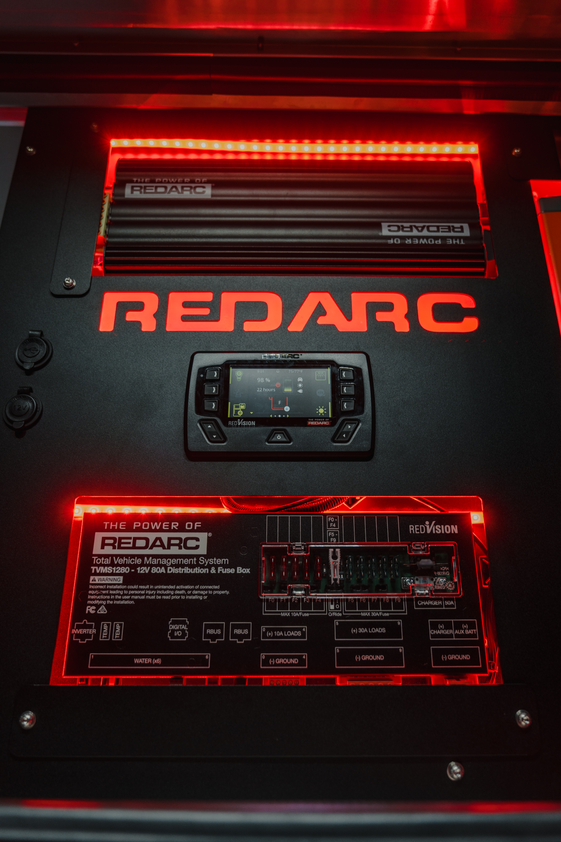 To learn more about taking the next step up for your off road travel - please read out blog BCDC vs Manager30 Guide and Weekend 12 Volt Guide.
Here at REDARC we have a "customer is king" policy, if you require any further assistance REDARC's Tech Support Line will always be happy to assist you, phone REDARC at (08) 8322 4848) or visit the REDARC website redarcelectronics.com/au/.