REDARC was honoured to receive the Excellence in Manufacturing award at the biannual Australian Automotive Aftermarket Awards. These awards recognise outstanding achievements and businesses in the Australian Automotive Aftermarket Industry.
Four in a row is an incredible achievement for REDARC, having won the Excellence in Manufacturing award at the past three Australian Automotive Aftermarket Awards in 2015, 2017 and 2019.
REDARC is also excited to congratulate Managing Director, Anthony Kittel, on being inducted into the AAAA Hall of Fame. This award honours the creativity, industriousness and accomplishments of outstanding individuals who have contributed to the ongoing success of the Australian Automotive Aftermarket Industry.
Speaking on these awards, Anthony Kittel said, "Winning the Excellence in Manufacturing award for the fourth consecutive time is a representation of the hard work and dedication which is embraced by all departments at REDARC. It's a reflection of our efforts to achieve excellence and something we take great pride in."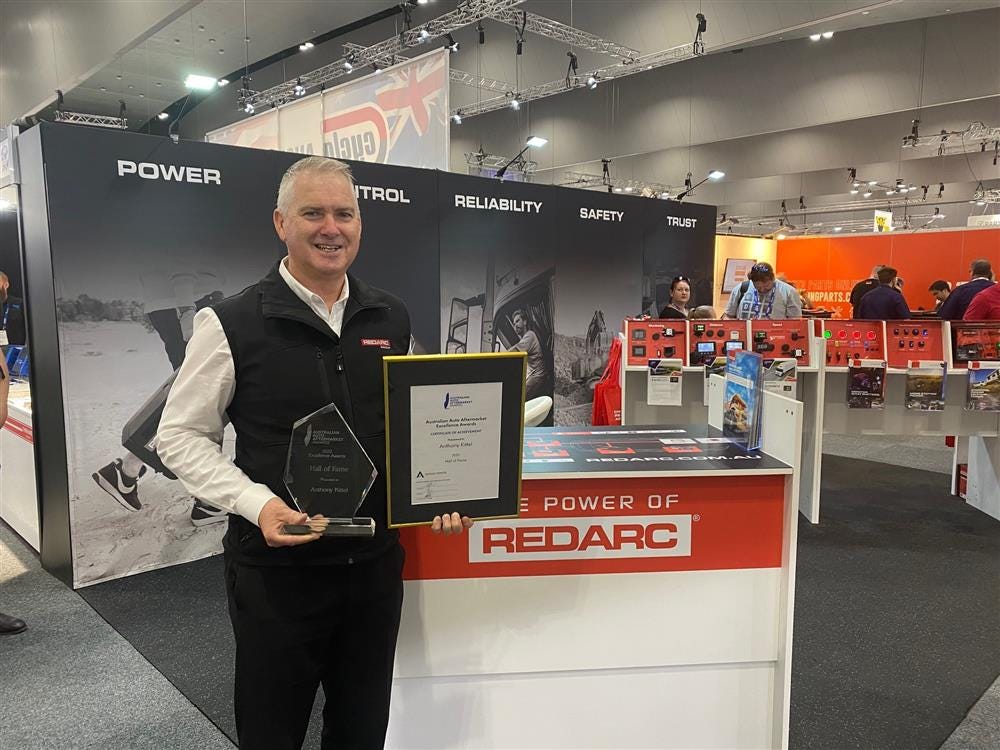 Stuart Charity, Chief Executive Officer of the Australian Automotive Aftermarket Association said, in regards to Anthony's Hall of Fame induction, "Anthony is one of the true industry pioneers and his commitment to Australian manufacturing is inspiring. He is a truly deserving winner of our industries highest individual honour."
We're proud to be among the companies and individuals nominated for these awards as they represent an unrelenting focus and dedication to excellence, innovation and education. It's wonderful to see the ongoing success of the aftermarket industry in Australia.
The Excellence in Manufacturing award recognises an organisation that has invested in research, embraced innovation and predicted future trends to develop a competitive advantage through continuous and dedicated improvement in manufacturing.
Held at the Crown Casino in Melbourne, the awards ceremony is attended by Australian Automotive Aftermarket Association members as part of the 2022 Australian Automotive Aftermarket Expo. The AAA Expo is Australasia's only comprehensive exhibition run by the aftermarket industry, for the industry.
To find out more about the AAAA winners and nominees visit www.aftermarketawards.com.au.