It's a common question faced by our technical support team here at REDARC, "Where do I mount my BCDC?" While there is not one correct answer - as every vehicle is different and spare space in modern vehicle engines is increasingly hard to find - one thing is for certain, mounting the unit in the wrong place can cause issues associated with the underperformance of DC-DC battery chargers.
With DC-DC charging applications it is recommended that the chargers are installed as close to the auxiliary battery as possible. While there are many installation location options depending on your specific setup, if this is in the engine bay, the best position is in front of the radiator and behind the grill. This ensures that the unit isn't exposed to direct engine heat and provides better airflow to optimise charger performance.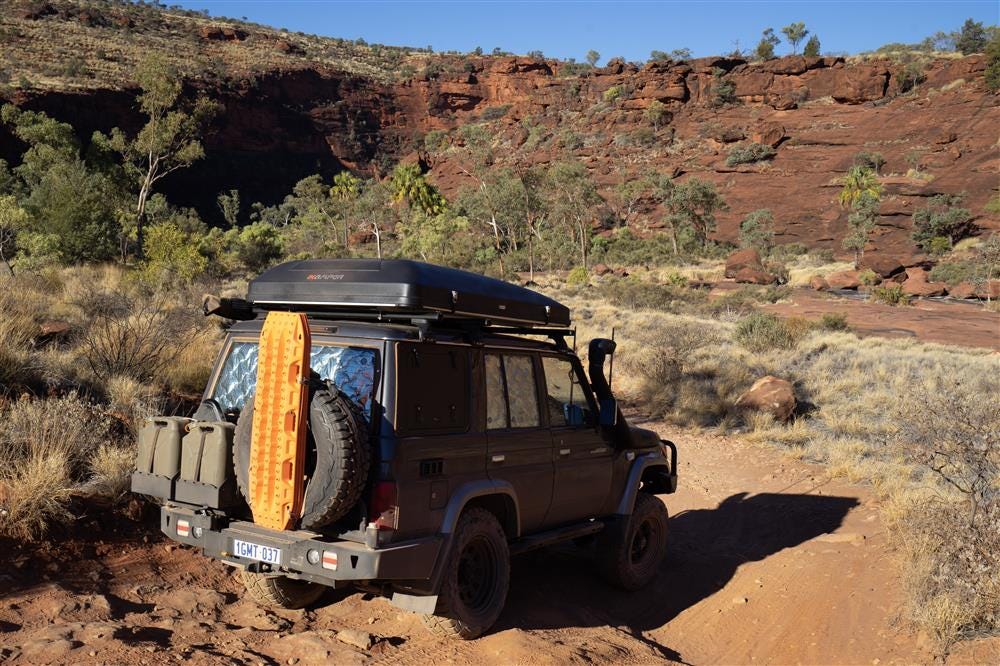 To get the best performace from your BCDC it's important to mount it in the right place.
The DC-DC charger's performance can be compromised due to poor thermal dissipation when mounted incorrectly, which results in the unit de-rating to protect the charger. REDARC's multi-stage BCDC in-vehicle battery chargers will work to full capacity up to 55°C (ambient temperature), then start to reduce its charge rate up to a maximum of 80°C with the current reducing to zero at around 85°C. By installing in front of the radiator it will protect both the BCDC and battery and provide optimum charging. Below are some factors to take into consideration when choosing the right mounting solution.
For the best charging performance, the BCDC should also be installed as close to the auxiliary battery as possible. While we recommend installing the BCDC less than one metre away from the battery that is being charged, this may not be the most practical solution.
By installing the BCDC near the auxiliary battery the voltage needed between the unit and the battery is minimised. If distance between the two cannot be avoided, bigger sized wiring must be used so maximum charge voltage can reach the battery.
REDARC's vehicle specific mounting brackets make BCDC installs look neat and tidy.
The best way to ensure correct engine bay installation generally requires the use of a vehicle specific mounting bracket. Space is at a premium in the engine bays of modern vehicles, not to mention the layout and mechanics can differ from vehicle to vehicle.
REDARC offer a range of BCDC Mounting Brackets that are purpose-built, and tailor made for specific vehicles. This removes the need to drill holes or makeup custom bracketry as a part of installation. It also saves on installation time and provides a professional, neat install. Each bracket has been extensively tested in our state-of-the-art HALT and HASS equipment which expose them to a lifetime's worth of cold, heat, humidity and vibration. These strenuous tests ensure they are designed to exceed everyday vehicle applications and can stand the test of time.
REDARC has recently introduced two new brackets to its range; one to suit a J100 series Landcruiser 100 and a universal mounting kit. These, combined with the current bracket range, suit several popular 4x4 vehicle applications including the 200 and 70 series Landcruiser, 150 series Prado, Hilux, D-MAX and Colorado.
Part Number

Vehicle Suitability

BCDCMB-001

Suitable for Toyota Landcruiser 200 (11/2008-onward)

BCDCMB-002

Suitable for Toyota Landcruiser 70 (03/2007-onwards)

BCDCMB-003

Suitable for Toyota Landcruiser Prado 150 (10/2009-onwards)

BCDCMB-004

Suitable for Toyota Hilux (03/2005-9/2015)

BCDCMB-005

Suitable for Toyota Hilux (10/2015-onwards)

BCDCMB-006

Suitable for Isuzu D-MAX (06/2012-onwards) & Holden Colorado RG (10/2015-onwards)
*New*

BCDCMB-007

Universal Mounting Kit
*New*

BCDCMB-008

Suitable for Toyota Landcruiser 100, J100 Series (1998 – 2007), J105 Series (1998-2007)
BCDC Core
Unlike the BCDC Classic, the Core range can't be mounted in the engine bay. Designed specifically for in-cab or canopy installation, it's perfect for tucking away in a side panel, mounting to your 12v board or stowing under the seats to leave room for the more important things in your engine bay.
Not sure what dual battery setup is right for you? Our Dual Battery Selection Calculator is a great first stop in determining your dual battery charger needs. We also now offer a range of all-in-one kits with everything you need to make setting up your dual battery system as easy as possible. For more information on the full BCDC install process, check out the video below.