With the REDARC team expanding and working hard in the US, we had a chat to one of our first US team members, Ryan Thurston, to find out a bit more about him. You'll find Ryan out and about in his Toyota Tacoma throughout Washington, Oregon, Montana, Idaho, Wyoming, North & South Dakota, Minnesota and Iowa.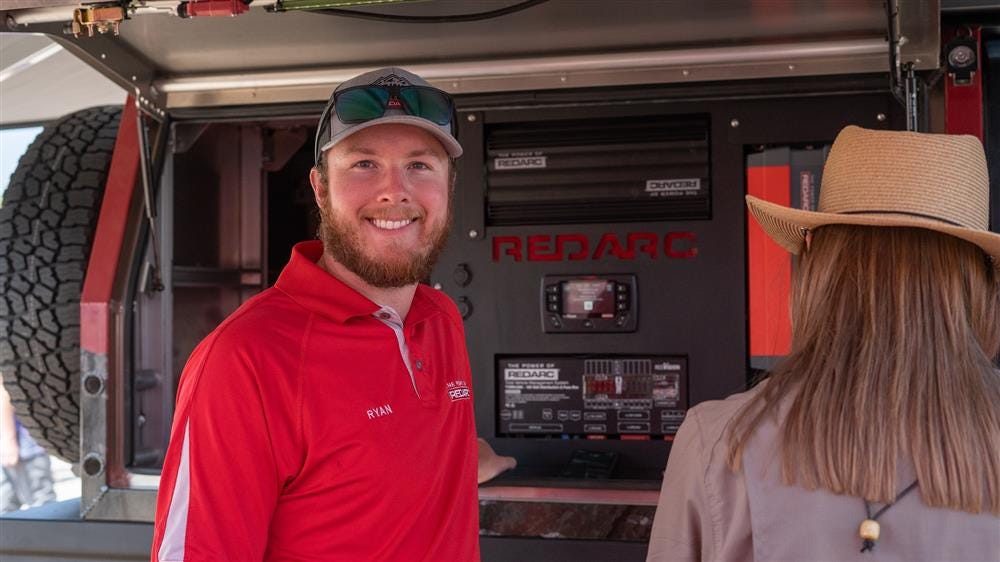 What were you doing before you joined REDARC?
Before joining the REDARC team I had worked mostly sales positions within Heavy Duty Aftermarket, Automotive Aftermarket, and OEM channels. This all stemmed from my time at Northwood University where I obtained a degree in Automotive Aftermarket Management which really helped me jumpstart into the industry.
Talk us through what an average day at REDARC consists of?
My days can vary greatly, from mild to wild I like to call it. On office days I'm managing travel, emails, expenses, and data input. On travel days, I can be anywhere from down the street to thousands of miles away calling on RV dealers, overland shops, and everything in between. Sprinkle in a few awesome events either showing off products, doing trail runs, or media events I'm just living the dream.
What is the best thing about working at REDARC?
The overall industry is awesome, I've made so many friends within it, so every day is a new opportunity to make a new friend. The industry events are second to none, I can be camping above the tree line in Colorado in our awesome REDARC Tacoma or wandering the halls at SEMA, it hardly feels right to call it work!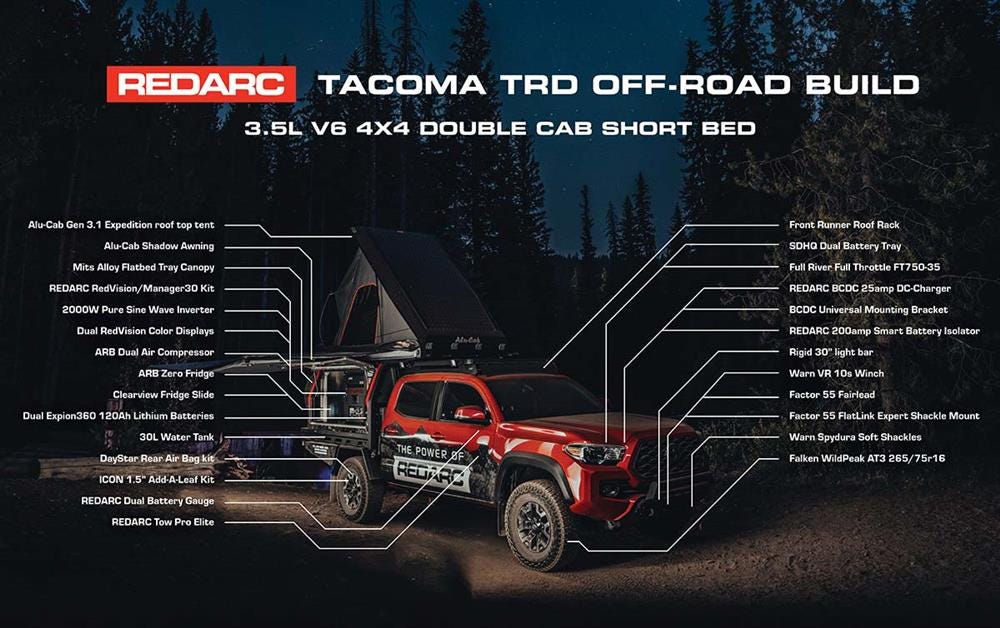 What is your favourite REDARC product and why?
Definitely RedVision. It's an incredible piece of kit and gets a lot of well-deserved attention. It has that wow factor for sure and obviously it's not just a pretty screen, its power and usability is incredible.
What is your dream rig? And what gadgets would you put in it?
My dream rig is a dual cab 79 series Land Cruiser with a Mits Alloy canopy. Fit it full of REDARC goodies and camping gear I'll be set for life. Don't tell that to my FJ Cruiser though, it'll likely leave me stranded up in the woods.
Tells us about your REDARC Tacoma, what products do you have and why are they important?
My Toyota Tacoma is tricked out with an auxiliary battery and BCDC1225D under the hood, a full RedVision Manager30 kit powering two lithium batteries in the Mits Alloy tray. An Alu-Cab tent, and awning up top. Some new ARB BP-51's and a Warn winch on the front. It's a capable off-grid vehicle, and awesome show rig makes me feel like a celebrity anywhere I take it.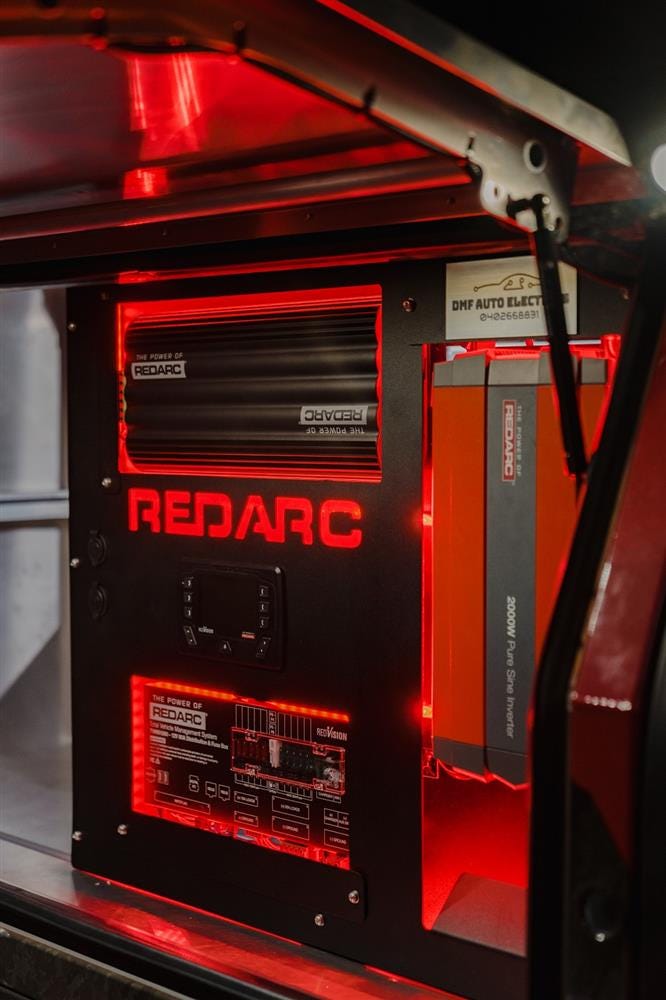 When you're out meeting people on the road and they ask "What REDARC product do I need?" what do you tell them?
I tell them it really depends on what their goals are, and then I get a bit more information about their rig and what they're trying to accomplish. Once I've got enough info, I can then prescribe the right REDARC setup to suit them.
What is your favourite travel destination?
So far, it's southern Alaska. The Seward highway and its views are hard to beat, but that might change when I finally get to visit Australia.
If you could share a meal with any 4 individuals, living or dead, who would they be and why?
Daniel Ricciardo - The crazy Aussie in F1, always looks like he's just living the dream he'd be great to have a few drinks with.
Tiger Woods - The legend in golf, he's had a wild ride in his career. It'd be great to just listen to his stories and get a few tips to get my scores low.
Gordie Howe - The famous Red Wing hockey player, he was skill and toughness, all in one package coveting the "Gordie Howe Hat Trick". The stories of hockey history could keep me on the edge of my seat for hours.
Richard Winters - Famously known from his story in the show Band of Brothers, which is based around his actions and others in the US Army during WWII. I religiously watch this mini-series, in awe of him and so many others of that generation and their actions during those times.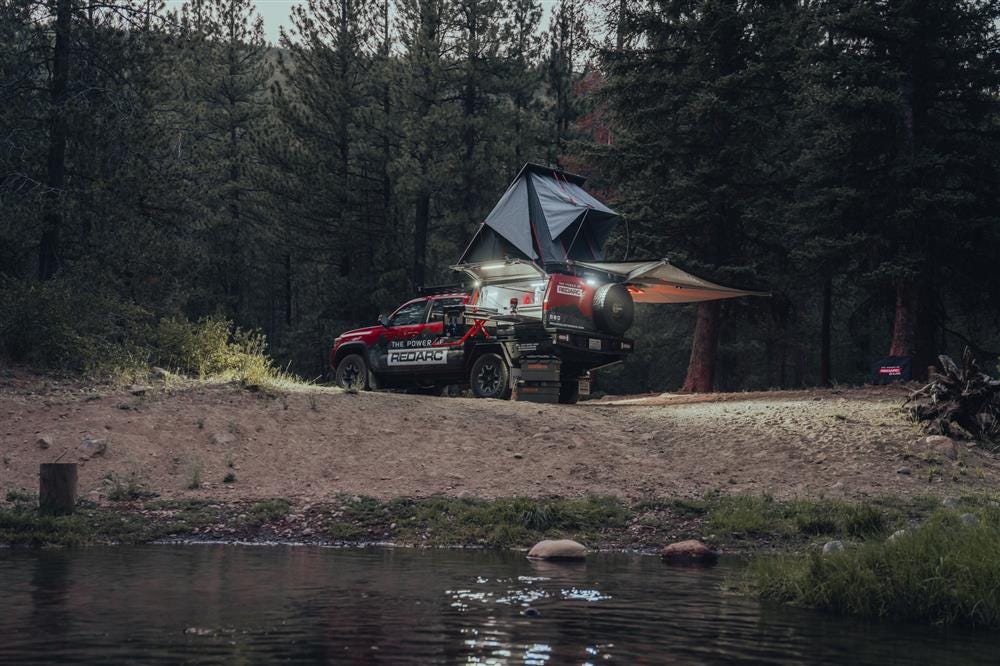 Do you follow any sports, if so what is your favourite team?
I'm a huge hockey fan, and I'll generally be watching the Detroit Red Wings or Colorado Avalanche. I follow a variety of motorsports including Formula 1, WRC/American Rally, and Baja racing. I'm also a big fan of any extreme outdoor sports. Anything to get the adrenaline pumping!
Favourite music to listen to when on the road?
I can't pass up a good podcast or eBook, but otherwise you'll hear various generations of country, rock, and hip-hop music blasting.
To learn more about the rest of our team in the US check out our getting to know Erich Ross and Jason Groom or get to know the Australian team. Or find out about what products are best for your next off-grid power setup using our dual battery selector tool.